My new favorite way of making Chinese style pork ribs that tastes better than any takeout. Plus it's super easy to make. And you only need a few basic Chinese ingredients.
The best thing about these Chinese style pork ribs is they aren't fried in oil. I use my air fryer to fry them and they turned out really good. Of course, you can deep fry or shallow fry these ribs. I did them both ways to test out this recipe. but I honestly didn't find much of a difference. The deep-fried ribs were crispier but there were no other differences between air-fried and deep-fried ribs.
Even though I use pork ribs, you can also use short ribs, beef ribs, or even bone-in chicken. Adjust the air frying time and temp according to the type of meat you use and then follow the exact same steps of the recipe.
Sauces:
The only sauces you need for this recipe are light soy sauce and Chinese cooking wine (aka Shaoxing wine). If you don't have this ingredient you can use dry sherry as a substitute. I know Chinese cooking wine is not as popular as soy sauce. But it a very widely used sauce in so many Chinese dishes. And it also changed my whole Chinese food game. So I highly recommend you to try it if you haven't tried already.
Five-spice powder:
Another spice that I use more often in Chinese meat dishes. Especially in Chinese bbq meat. You can find this ingredient in any Asian grocery store. Or make it at home as I do. The homemade five-spice is very strong than store-bought five-spice powder.
Air fryer time:
The time you need for the ribs to be fried varies depending on which type of ribs you use and according to your air fryer. Like ovens, most air fryers aren't accurate. Smaller the air fryer, outside fries so quickly because the burner is too close to food. So adjust your air frying time and temp accordingly. The good thing about air fryer is you can always pause it, take the basket out and see if they're done. And don't forget to flip them once when they're frying. And do not overcrowd the basket. I use a Ninja air fryer and for me, it usually takes 25-30 mins on 375F.
If you like more Chinese food, check out my Chinese pork fried rice recipe, Chinese chop suey recipe, chicken and broccoli recipe, chili bean chicken recipes too.
Pin this to your favorite Pinterest board
Here are the products I mentioned (Affiliated links):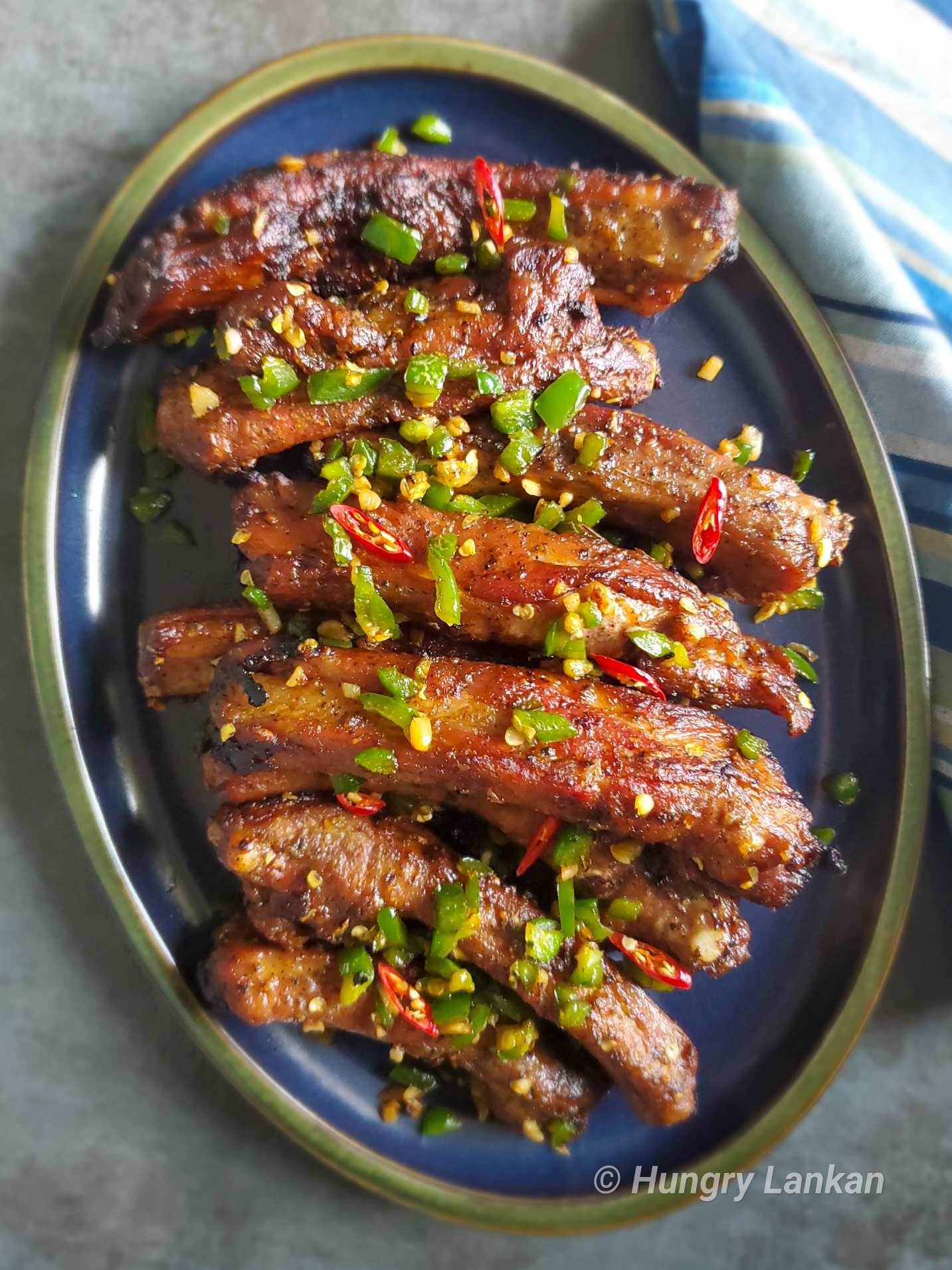 Chinese Style Pork Ribs
Description
My new favorite way of making Chinese style pork ribs that tastes better than any takeout. Plus it's super easy to make. A must-try for Chinese food lovers
Marinade pork
salt and pepper seasoning mix
Other
Instructions
Marinating ribs
First cut and separate each rib. You can remove the membrane on the backside, which is totally optional.

marinate the ribs with 3 tbsp of Chinese cooking wine, 2 tbsp of brown sugar, baking soda, and few ginger slices. Leave it on the counter for 30 mins or up to a day in the fridge.
Making seasoning mix
Meanwhile dry roast 1/2 tsp salt, 1 1/2tsp black peppercorns, and 1/2 tsp Szechwan peppercorns about a minute in the medium heat. If you don't have Szechwan peppercorns replace it with black peppercorns.

Add peppercorns and salt to a mortar and pestle or spice grinder, along with 1/8 tsp of Chinese five-spice powder. Grind until you get a nice coarse powder. The roasting makes it easier to grind.
Air-Frying Ribs
Remove if there's any liquid collected at the bottom of the marinated ribs. Also, remove the ginger slices.

Add the salt and pepper mix to the ribs and mix well to coat.

Add a bit of oil just to coat the ribs, mix, and then add 2 tbsp of corn starch to the ribs and mix well again to coat. If you feel like it's too watery then add a little bit more corn starch.

Now air-fry the ribs for 25 - 35 mins in 375 F. Flip them halfway through the frying. The time may vary depending on how thick your ribs are and your air fryer. So fry them until they are golden and cooked all the way through. Do not overcook, the meat would be too tough to chew.
Wok frying
Heat a wok until it's smoking hot. Add about 1 1/2 tbsp of oil. And add chopped garlic.

Stir and quickly add chopped jalapenos. Stir for few seconds.

Drizzle 1 tbsp of Chinese cooking wine around the wok and 2 tsp of light soy sauce. (regular soy sauce would also work). If you're using a pan instead of a wok, use a bit less sauce than this.

Quickly add fried ribs and stir for about 30 seconds on very high heat to get some char marks. You can add more salt and pepper at this point if you need more seasoning.
pork ribs, pork, ribs, air fried, air-fried, spareribs, spare ribs, wok, spicy