An easy way to make delicious Sri Lankan yellow rice in the instant pot or rice cooker. A must for your Sri Lankan party menu. 
This Yellow rice is one of my favorite dishes that my mom makes when we have guests over. The aroma in the kitchen when she makes this yellow rice is indescribable. When those whole spices, curry leaves, and pandan leaves hit the hot butter… Oh, I can just feel it even as I write this now. My mom made yellow rice in rice cooker though. The same way. But since I use my multicooker to cook my rice, that's what I'm going to use here for my easy Sri Lankan yellow rice recipe. 
Which rice variety should I use?
For yellow rice, I always go with short-grain, non-sticky rice varieties. Sri Lankan "Samba" varieties are perfect for this. Eg: Keeri Samba, Suduru Samba (aka Jeeraga samba), Muthu Samba.
The rice I'm using here is called "Sona Masoori" which is a type of Indian short-grain rice that is easier to find in Indian grocery stores in the US. Suduru Samba also can be found in indian grocery stores with the name Jeeraga samba (Jeera/Suduru means Cumin).
My mom always uses "Keeri Samba", the BEST rice for yellow rice if you can get your hands on. Sometimes available in Indian grocery stores in the US or you can order from online Sri Lankan grocery stores.
If you can't find good short-grain rice, use good quality Basmati rice. But cut down the amount of liquid you use. 
Can you make it Vegan?
Absolutely. I'm using chicken stock here simply because I love the flavor combination of chicken stock and coconut milk. But you can use vegetable stock with no problem. Or even just water is good enough.
Serving Suggestions: 
If you can make yellow rice perfectly, that opens up a new door to another Sri Lankan festive food world. There are soooo many dishes that you can pair yellow rice with. My favorite combination for yellow rice is Sri Lankan devilled chicken or Sri Lankan black pork curry as a protein, creamy potato curry or red lentil curry for the creaminess and Sri Lankan brinjal/eggplant moju and green beans stir-fried together. Some Sri Lankan fish cutlets would be a wonderful addition too if you want to impress your guests.
Here are the products I use (Affiliate Links):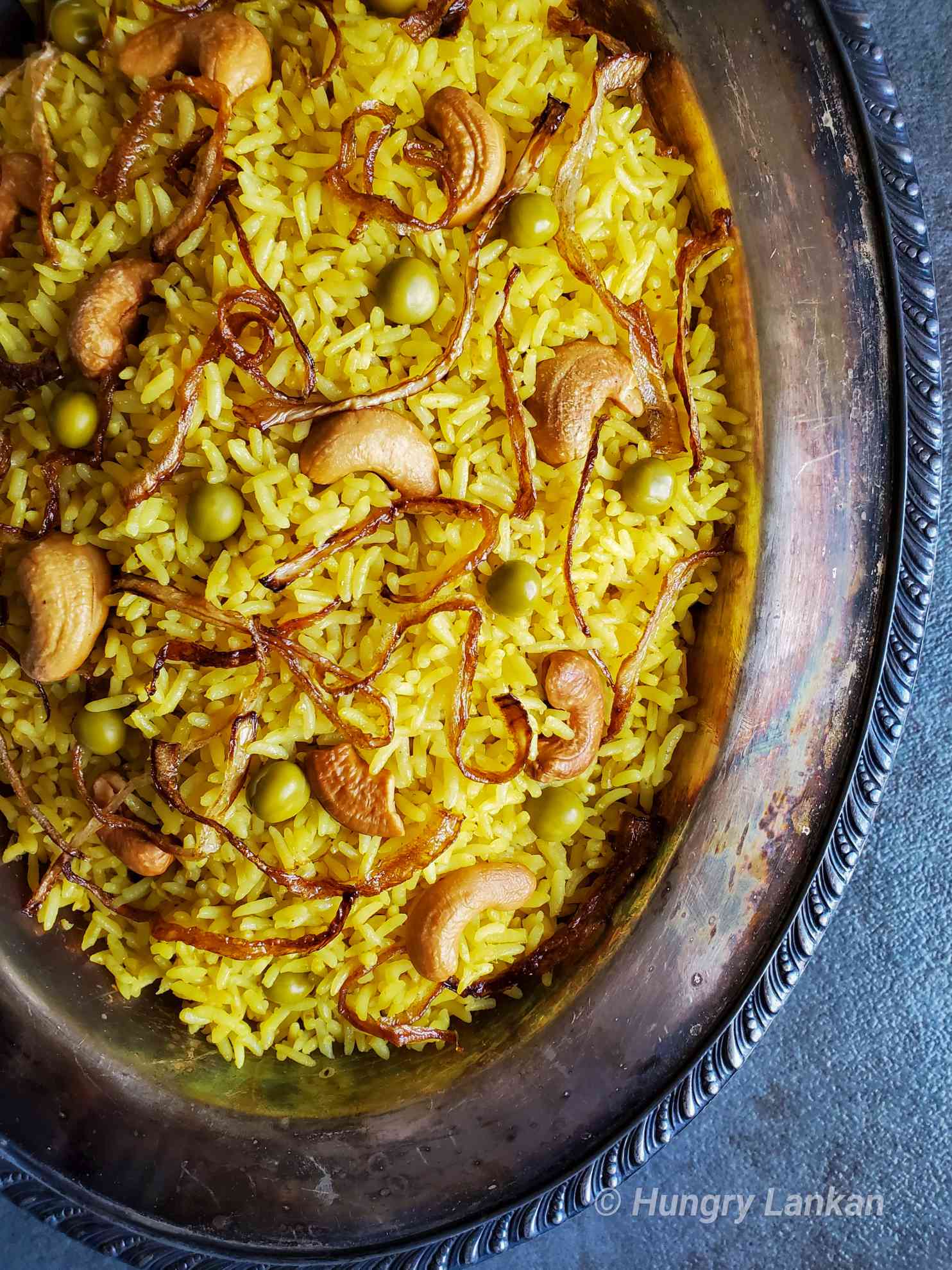 Easy Sri Lankan Yellow Rice
Description
An easy way to make delicious Sri Lankan yellow rice in the instant pot or rice cooker. A must for your Sri Lankan party menu. 
Instructions
Wash rice thoroughly until water runs clear and then drain all the water Pound ginger and garlic using a mortar and a pestle. You should have about 1 tbsp of ginger garlic paste. Do not use the store-bought one. Open the cardamom pod a bit by gently crushing them using the flat side of your knife.

Turn on the multicooker/instant pot (or rice cooker) and select the saute mode. Add butter. When the butter is melting, add cardamoms, cloves and peppercorns. And add pandan leaves and curry leaves. Mix for a few seconds.

Now add ginger garlic paste and chopped onion. Keep. Stirring until they get light brown. If they seem to burn, turn off the multicooker/instant pot and add a bit more butter.

When onions are soft and brown, add your washed and drained rice. And add turmeric powder. Now mix with the onion mixture.

Then add the chicken/vegetable stock and coconut milk. Stir.

Check for salt. Add more if you need salt. Stir.

Then cover and select the "rice" preset on the multicooker. If you use a rice cooker, then cook as you normally do.

Remove the cardamom pods, cloves, and pandan leaves. You can see them around the edges sitting on top of the rice. So it's easy to spot them.

And fluff the rice carefully without breaking the grains.

Use fried onions, fried cashews, peas(optional) to decorate.
yellow rice, kaha bath, bath, rice, sri lankan, sri lanka, sri lankan rice, spiced rice