Easy healthy Chicken Stir-fry that you can make with a mix of vegetables that you already have on hand. I make this stir-fry, especially for Friday nights, when I want to use up all the leftover vegetables before going to the market on Saturday. I love that it comes together so quickly and easily and it's super delicious and comforting. Unlike many Chinese stir-fry dishes, you don't have to make this dish in high heat or in a wok. So you can make a big batch of this stir-fry which makes it a great recipe for meal-prepping.
Easy All-Purpose stir-fry sauce
I have a few all-purpose sauces that I use but I think this one is the most versatile of all of them. The sauce has a really nice balance of flavor. It's not too salty, umami, fishy or spicy. Just the right amout that any picky eater would appreciate. The best thing is, it goes with all kinds of meat and vegetables. So if you're having some guests over, this would be a nice stir-fry sauce to use.
You can make the sauce in advance and keep it in a jar. I usually make two batches of the sauce so next time I make a mix vegetable stir-fry I don't have to mix the sauces again.
Keep in mind, to get the sauce thickened, you have to use the corn starch slurry as well.
If you like the sauce darker in color, use about 1 tsp of dark soy sauce. It's not too salty but makes the stir-fry darker in color.
All the Asian ingredients I use here are available in Chinese grocery stores. You can buy them from Amazon too.
Substitutes
Chinese cooking wine/Shaoxing wine can be substituted with Dry Sherry.
You can use beef stock or vegetable stock in place of chicken stock.
Rice wine vinegar can be substituted with Apple cider vinegar.
Sugar can be substituted with honey for a healthier option. But keep in mind, honey is sweeter than sugar so use the ratio, of 1 tbsp sugar = 1/2 tbsp honey. And then taste and if you feel like you need more sweetness to balance out the sourness from vinegar, add a little more honey to the sauce mix.
Favorite vegetables to use for this Stir-Fry?
I like to use a mix of vegetables when I make this stir-fry. These are my favorites
Broccoli/Broccolini
Cauliflower
Carrot
Green beans
Carrot
Celery
Snow peas/Snap peas
Onion thick pieces
Bokchoy
Peppers (They get soft very quickly so if you add them, wait until other vegetables are halfway cooked)
Mushrooms (not a vegetable but they are so good in this recipe)
Recipe Video
How to Serve
Nothing is better than some freshly cooked Jasmine rice to serve this Chicken and Mix Vegetables Stir-fry with.
I also like to serve with garlic fried rice, pork fried rice if I'm having guests or a simple egg fried rice.
Noodles, angel hair pasta, cous cous, and quinoa are some other good options too.
You might also like to try these recipes
Chicken stir-fry with chili bean sauce
Chicken stir-fry with chilies and cilantro (one of my favorites)
Pork belly stir-fry with peppers
Chicken and broccoli in brown sauce
Chop-suey with scallops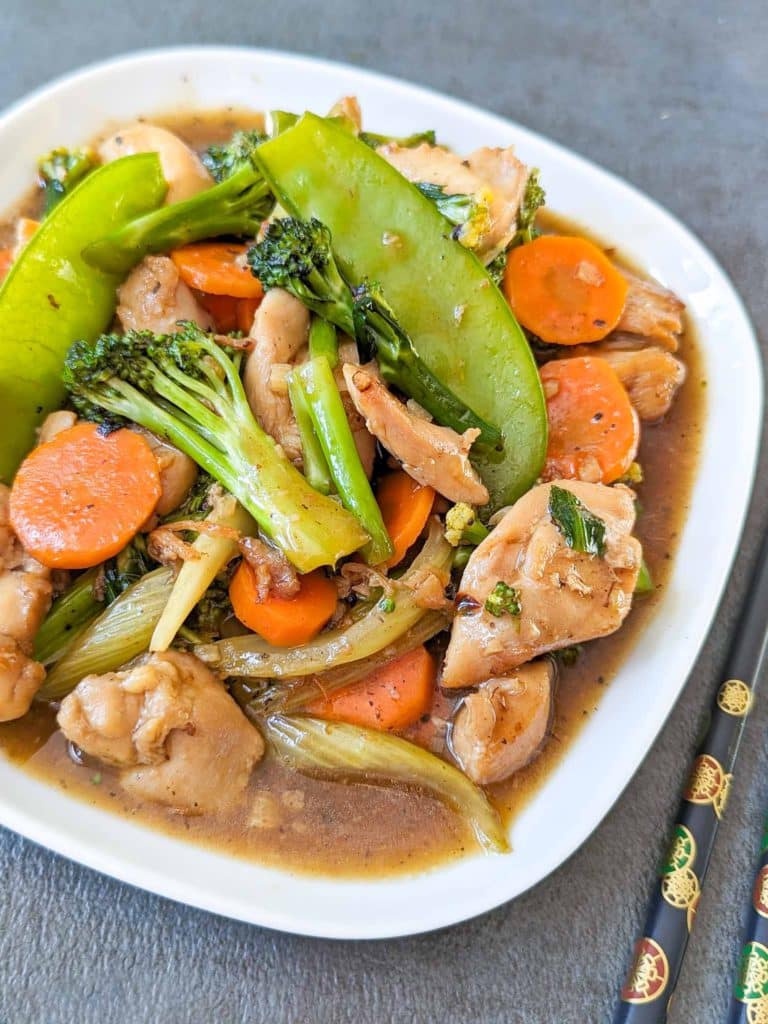 Chicken and Mix Vegetables Stir-fry
Description
This delicious and comforting, chicken and mix vegetable stir-fry is an easy quick meal you can make with any vegetables you have on hand. Great for big-batch cooking and meal prepping as well. 
To marinate chicken
For the sauce
For the corn starch slurry
Others
Instructions
Preping
Marinate chicken with soy sauce, Shaoxing wine, corn starch, and oil. Set it aside and let it marinate until you prep other ingredients.

Add cornstarch to a small bowl and add water. Mix well with a spoon. Keep it aside.

Make sure you do not add hot or warm water as it can thicken the corn starch slurry and make it into a paste

Make the sauce mix in another bowl with chicken stock, Shaoxing wine, oyster sauce, light soy sauce, sugar, rice vinegar, and sesame oil.
Make the Stir-Fry
Heat a wok or a frying pan. Add oil to the wok and spread it around. When the oil starts to heat up, add the marinated chicken. Spread chicken pieces around the wok so every piece touches the bottom. Let the chicken fry, without touching, for about a minute or until the bottom side of the chicken pieces become golden in color.

Flip the chicken pieces and fry them until all the chicken pieces are cooked through. Transfer cooked chicken from the wok to a clean plate.

Reduce the heat of the wok. Add chopped garlic. Give a quick toss and add all the vegetables. Cook until vegetables are halfway cooked. Keep mixing continuously to cook all the vegetables evenly.

Add the sauce mix you just made. Also, add chicken pieces back in. Mix with the vegetables. Let the sauce come to a simmer and the vegetables cook together until they become more tender. But do not cook them until they are over-cooked and mushy. 

Give a quick mix to the cornstarch slurry and add it to the wok. Mix well with chicken and vegetables. You'll see that the sauce starts to thicken up as you mix it.

Taste the sauce. Add soy sauce if the dish needs more salt. When the sauce has thickened to your level of preference, transfer everything to a serving dish to stop it from cooking any further. Serve with freshly cooked jasmine rice.
Notes
This might seem like a lot of sugar. But sweetness balances out with the sourness of rice vinegar. If you want to add less sugar, feel free to do that. To get the right balance of flavor you might need to reduce the amount of rice vinegar as well. 
 
chicken stir-fry, chicken and vegetables, easy chicken and vegetable recipe for meal prepping, meal prep recipes, Meal planning recipes, Healthy meal prep recipe, Chicken stir-fry, Vegetable stir-fry, Chicken in brown gravy, Chicken and broccoli