Try my fool-proof Amaretti cookies recipe and experience a taste of Italian perfection in every bite. These soft, chewy, aromatic cookies are the best treat when you crave something sweet.
As a recipe developer with a penchant for savory delights, I must confess that I have fallen head over heels for Amaretti cookies. These delectable treats have won my heart with their irresistible sweet nutty flavor and delightful soft chewy texture.
Origin of Amaretti cookies:
The origin of Amaretti cookies can be traced back to Italy, specifically the Lombardy region. The city of Saronno in Lombardy is particularly renowned for its production of Amaretti cookies.
The exact origins of Amaretti are somewhat unclear, as there are different versions and variations of the cookie throughout Italy. However, it is believed that the recipe for Amaretti cookies dates back several centuries. Regardless of their exact origins, Amaretti cookies have become a beloved Italian delicacy and are enjoyed both in Italy and around the world today. If you're interested in learning the history, here's a link to an article that I found fascinating.
Ease of Making: A Breeze in the Kitchen
One of the most appealing aspects of these cookies is how effortless they are to make. Even for those with limited baking experience, these Amaretti cookies offer a fool-proof recipe that guarantees success. I rarely bake cookies. So trust me when I say this. With just a handful of simple ingredients—almond flour, sugar, egg whites, and almond extract—you can create a batch of these heavenly treats in no time. The dough comes together effortlessly. And a short stint in the oven yields beautiful cookies that are slightly crisp on the outside, and soft and chewy in the middle.
Recipe Video
Serving:
Whether enjoyed with a cup of tea or as an accompaniment to a velvety dessert, Amaretti cookies never fail to elevate the experience. Their delicate appearance and heavenly aroma make them an inviting treat for any occasion. Make a big batch cause they're very addictive.
You can also use them as an ingredient in various desserts as well. People often use Amaretti cookies in tiramisu, crush them to use as a topping for ice cream, and incorporate them into cake batters and other baked goods.
This recipe yields 32 cookies.
I hope you try this very easy fool-proof recipe a try! And don't forget to leave feedback for me in the comment section.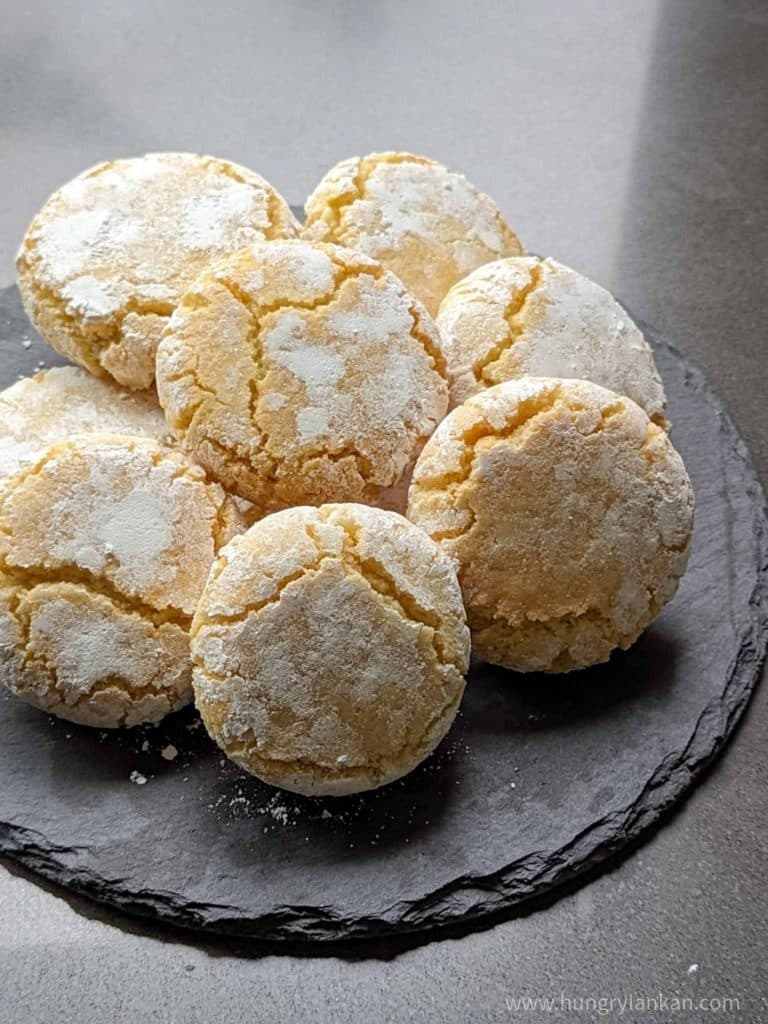 Fool-proof Amaretti Cookies
Description
Try my fool-proof Amaretti cookies recipe and experience a taste of Italian perfection in every bite. These soft, chewy, aromatic cookies are the best treat when you crave something sweet.
Instructions
Start by preheating the oven to 325F/ 163c

Separate egg whites from the eggs. Add egg whites to the mixer bowl. Make sure there's no egg yolk mixed in. Add salt and beat the egg whites until soft peaks form.

Make sure your mixer bowl is nice and clean and free of any fat or residue. I always wipe the bowl with a tiny bit of vinegar. It helps to clean the bowl and also for the egg whites to whip.

Add almond extract and vanilla extract to whipped egg whites. Beat a few seconds until they are all mixed in.

Add almond flour and granulated sugar. Mix everything with a spatula until it looks like a dough.

Scoop a little bit from the cookie dough (roughly about 2 tbsp) and make them into dough balls by rolling each between your palms.

Put the icing sugar into a small bowl and roll each dough ball in icing sugar until well coated.

Line a large cookie sheet/baking tray with parchment paper. Place them on the tray with at least 1.5 inches between each ball. Press the dough lightly with a flat object (something like a water glass or a cup) or with your fingers.

Bake for 18 - 20 minutes or until the bottom is slightly golden in color and the cookies have expanded in size a little bit. Let them cool on a cooling rack and store them in an air-tight container. 
Amaretti cookies, Fool proof amaretti cookies, Easy amaretti cookies recipe, Best recipe for amaretti cookies, Almond cookies, Recipes with Almond flour, Easy beginner friendly cookie recipes, Sweet treats with almond cookies, Naturally gluten free cookies, Italian authentic amaretti cookies