The BEST chicken dum biryani recipe that you can actually rely on. I have tried countless amount of youtube Biryani recipes and never been able to find a recipe that gives how much of each ingredient I should actually use. Some people say to use a teaspoon and use the spoon in their spice jar. And when I use a teaspoon from my measuring cups, the result is so different. You know what I mean right?? So frustrating!
So after trying so many recipes on my own with different methods and spice mixes, this is the best biryani recipe I came up with. And I measured everything in measuring spoons. So if you're going to try this, I promise you're going to get the same tasting biryani as shown here.
If you want a quicker biriyani recipe check out my Pakki Style Chicken Dum Biriyani Recipe. It does not need a long marination time so check that out if you are in a hurry.
Before you continue to the chicken dum biryani recipe please go through these key points. Very important! These are the lessons I learned along my biryani journey. You might be doing the same mistakes.
Use full-fat plain yogurt. You need that richness and sourness. Yogurt is the key ingredient that makes the chicken so soft and moist. The lactic acid and calcium break down the protein and that's why you shouldn't skip the yogurt.

Marinade for 12 –  hours in the fridge. You need that time for your yogurt to do its work. 

Use good quality Basmati Rice to get fluffy non-sticky rice. The brand I use is called "Royal".  ( Affiliate Link: https://amzn.to/2ZgBEbG )

Do not burn your fried onions or otherwise, your marinade would taste bitter. And do not skip fried onions. You need that sweetness to balance out the sourness. 

Use a heavy bottom pan to cook the biryani. The equal heat distribution is so important. Otherwise, you'd end up with burned chicken and marinade. I use my nonstick Calphalon pan  ( Affiliate Link: https://amzn.to/2LIT88k ) , it has a nice even heat distribution and most of all it seals pretty nicely with the lid so I don't have to seal it or even cover it with a foil. 

Wash your rice thoroughly to remove the extra starch from the grains. 

The most important point, salt your water really well. Salt your water until you feel like you have added too much salt. Rice cooked in under-salted water is the biggest culprit of bland biryani. 

Do not overcook your rice in water. Cook until they are about 80% done. When you chew them they should feel just cooked but need few more mins. It should not be white and crunchy in the middle. And don't forget to drain water as soon as when they are done and spread the rice around the colander to stop them from further cooking. That's how you get those beautiful fluffy rice grains.
Please do not intimidate me by the long list of ingredients. The method to make Chicken Dum Biryani is really easy. Just follow the instructions step by step. Also checkout Pakki Style Biriyani recipe as well.
Affiliate Links for mentioned products
Pin this to your favorite Pinterest Boards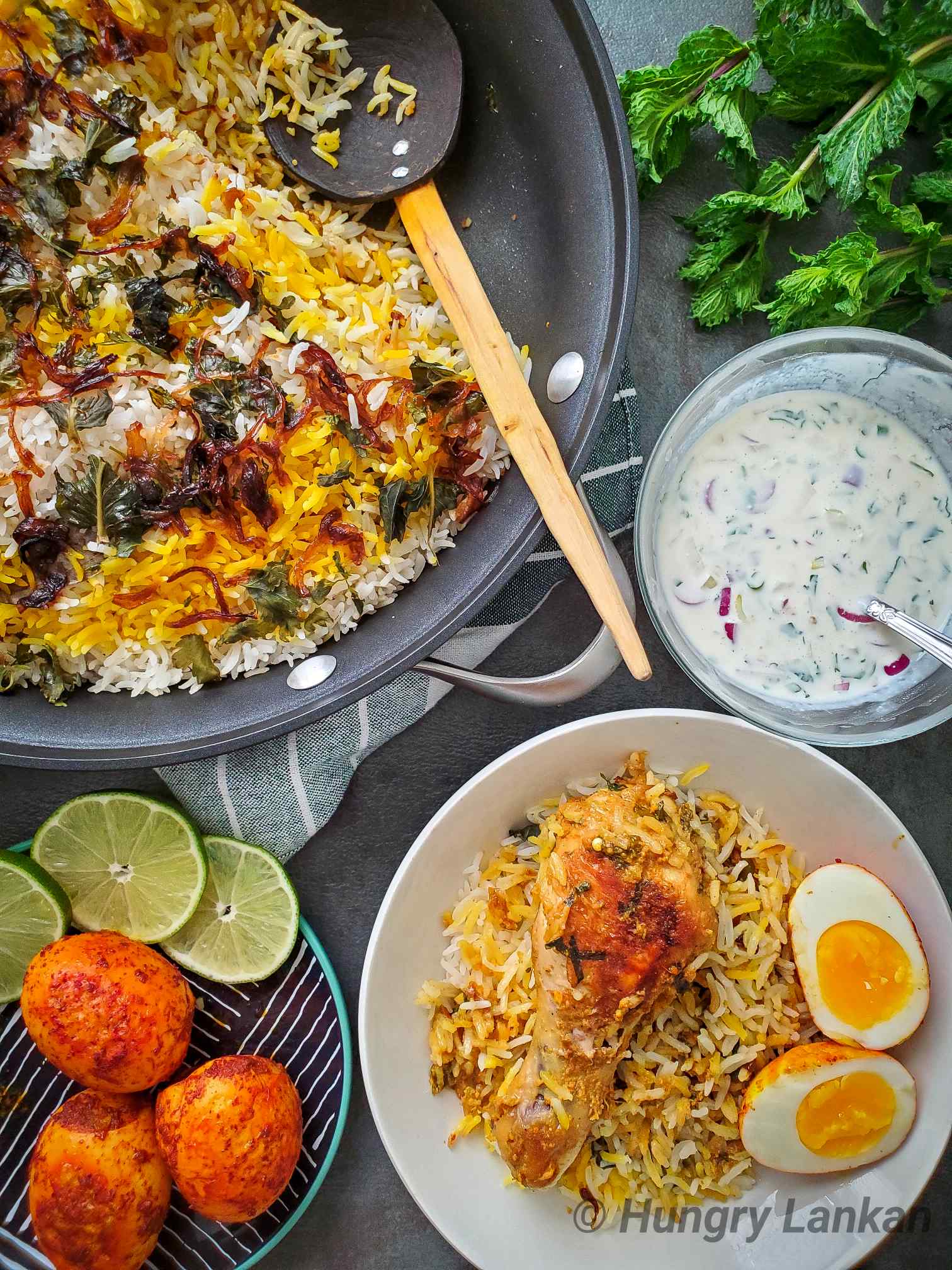 Chicken Dum Biryani (Kacchi style)
Description
The BEST chicken dum biryani recipe that actually gives you the perfect Biryani every time.
For the Marinade
For the Rice
For Layering
Instructions
You need about a cup of fried onions for this recipe. So if you don't already have fried onions, go ahead and deep fry about 2 cups of thinly sliced onions until crispy and golden.

Make the marinade. Mix all the ingredients for the marinade except chicken and salt. Taste the mixture and add salt. Make sure to adjust the amount of salt I have given to your liking. You're going to add a lot of chicken to this. So make sure the marinade tastes a little too salty and sour.

Now add the chicken pieces. Mix everything well together. I always use my hands for this. Then refrigerate for 12 hours to 24 hours. But if you're in a hurry, 3 to 4 hours would be just fine. I always marinate my chicken the day before I want to make biryani.

Fill a large pot (4 quart - 5 quart) with water. Add all the ingredients for the rice except rice. Bring the water to boil. Taste the water and make sure you have added enough salt. A very crucial step. Meanwhile, wash the rice really well until you see the water runs clear. Add the rice to the pot when the water starts to boil. Cook the rice until they are about 80% done. Drain and spread around the colander.

Take a heavy bottom pan with a tight-fitting lid. add a tbsp of ghee to the pot and spread it to cover the bottom. Now add your chicken along with all the marinade and spread evenly on the bottom. Make sure all the chicken pieces touch the bottom of the pot. Now top the chicken with some fried onion, cilantro, and mint.

Now spread your rice on top of the chicken and marinade. Do not press your rice down. You just need to loosely place your rice over the chicken. Top rice with cilantro, mint, the rest of the ghee and milk saffron mixture. I did not have saffron so I used yellow food color here.

Cover with a foil and close the lid tightly. The steam should not escape. If you're not sure the lid fits tightly enough, make a dough with some flour and water, roll and make a rope with the dough and seal the edges with it.

Place the pan on the stove. Cook 7 mins on medium-high flame, 15 mins on medium-low flame, and another 12mins on the lowest flame possible. Turn off the heat and let it rest for another 15mins before you open the lid.

Serve hot with Raita (yogurt salad), and boiled eggs.
biriyani, chicken, dum biriyani, chicken biriyani, hyderabadi, hyderabadi biriyani, indian, kacchi, kacchi biryani, kaachi, spicy