Thai Pandan Chicken is so fragrant and so delicious but you know you feel better when you make it in the air-fryer. So easy and so quick and you can eat a ton without feeling too guilty. Isn't that great? 
I'm Sri Lankan and I find Thai food to be the closest that gives me that comfort coziness when it comes to food. Pandan leaves and coconut milk takes a huge place in Sri Lankan cuisine. We use them in every curry, every stir-fry, even in rice. That could be the reason why I felt this pandan chicken dish so closer to me. 
 The pandan aroma is so unique and amazing it can infuse any dish and make it smell so good and appetizing. If you ever cook with pandan you know what I mean. My mom's rice always smells so good because whenever she cooks rice she adds a pandan leaf to the rice cooker. 
The first time I had this Thai pandan chicken was from a Thai restaurant and they served it as an appetizer. I love all the foods that are balanced with sweet and savory flavors. And this one is one of them. If you think it's too sweet I guarantee you it's not.  That sugar is needed to balance out the other salty and umami flavors.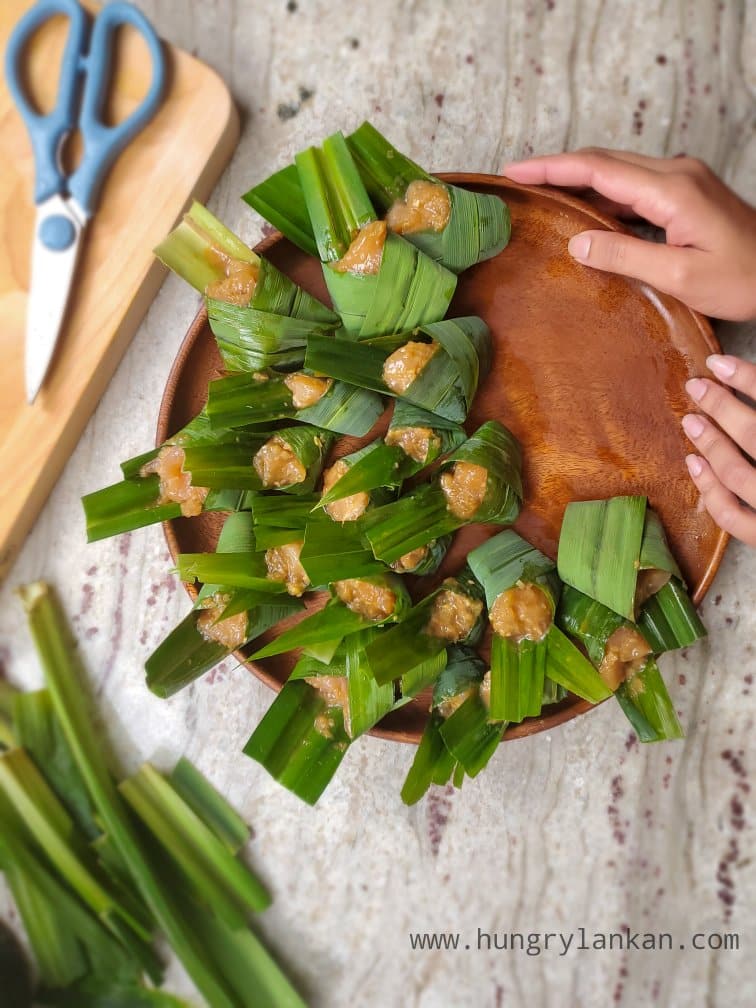 What if you don't have an air-fryer?
Well, the traditional way of making Thai pandan chicken is actually by frying in oil, not in an air-fryer. So you can always shallow-fry them in oil it would taste so good. 
A few things to consider:
With lemongrass, only cut the tender part. Fresher the better. If it is old and dried then you can peel out a few outer layers and just use the inner and the part that is closer to the root. If you use dried and harder parts you'd have a hard time grinding it to a paste and also it's not pleasant when you eat them.
Pandan leaves can be found in many Asian grocery stores. Thai grocery stores are sometimes harder to find. But if you visit Chinese, Indian, especially Vietnamese grocery stores you'd probably be able to find these. Definitely check out the freezer section.
The ratio of sauces and sugar that works for me is 1 part oyster sauce: 1 part fish sauce: 1 part sugar. You might like it less sweet or less salty or wise versa. The good thing is you can always taste the marinade and adjust it as you wish.
Adding dark soy sauce is optional. In many dishes, dark soy sauce is used only for color. Please do not substitute that with light soy sauce as the light sauce is stronger in flavor. It would change the flavor of the whole dish.
Make sure you do not over-crowd your Air-Fryer when you make these Thai Pandan Chicken. They would steam instead of frying. If you have a small air-fryer like I do, then do them in batches.
Recipe Video
Serving ideas:
Serve with any dipping sauce of your choice. I have added a dipping sauce recipe below. I like these with sweet chili jam or Thai peanut sauce too.
The given amount is enough for about 6 people as an appetizer.
Serve hot.
Amazon affiliate links for the products I use: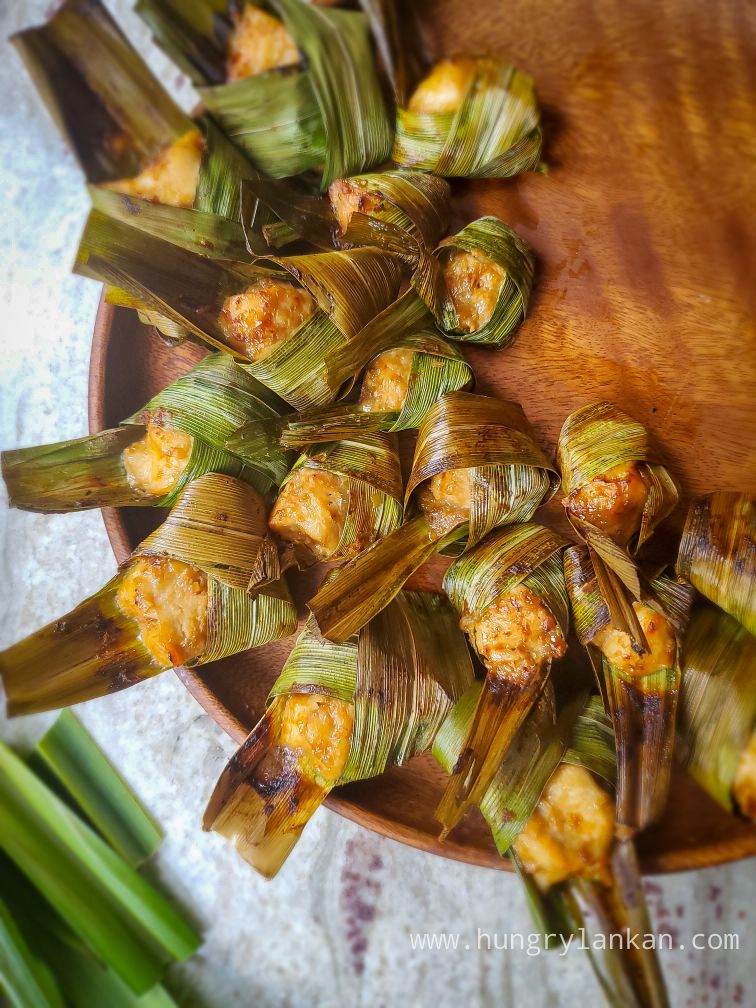 Thai pandan chicken in Air-fryer
Description
Thai pandan chicken is so fragrant and so delicious but you know you feel better when you make it in the air fryer. So easy and so quick and you can eat a ton without feeling too guilty. Isn't that great? 
For chicken
For dipping sauce
Instructions
Into a mortar and pestle, add sliced lemongrass (use only the tender part), ginger, garlic cloves and grind it into a fine paste.

To that add fish sauce, oyster sauce, sugar, and dark soy sauce and mix well. Taste it and adjust it to your taste. Add sugar to make it sweeter, fish sauce to make it saltier, and oyster sauce to make it more savory and umami. Dark soy sauce is completely optional. It's only for the color. Do not substitute dark soy sauce with light/regular soy sauce.

Add the mixture to your bite-size cubed chicken. Also, add 2 tbsp of coconut milk. Mix everything very well. Leave it aside to marinate until you ready your pandan leaves.

After about 20 mins, add about 2 tsp of cooking oil and mix. If you're deep or shallow frying or use fatty chicken thighs, you can skip this step.

Get a pandan leaf and fold is as I've shown in the video above. Then add 2-3 chicken pieces to the little pocket you make by folding it. Turn it around, tuck the end, and cut out the excess pandan leaf. If the folding is too much work you can wrap a chicken piece in a pandan leaf and secure it with a toothpick too.

Arrange them in the air-fryer basket, spray some oil over it and air-fry for 6-8 mins on 350F / 175 C. Do it in batches. Do not over-crowd the air fryer basket. You can shallow/deep fry these wrapped chicken in oil too.

Serve while they're still warm.
Make dipping sauce
In a serving bowl mix light soy, dark soy, sugar, sesame oil, and sesame seeds. 
Thai Pandan chicken, Airfried Pandan Chicken, Air Fried Chicken, Thai Chicken in Air Fryer, Air Fried Thai Chicken, Pandan Chicken, Chicken wrapped in Pandan leaves, Asian Air Fryer recipes