I cannot say enough good things about this Air-Fried Black Pepper Chicken recipe. It's so so delicious. So peppery, aromatic, healthy, and very quick and easy to make. Try this recipe and I promise you won't be disappointed.
The recipe itself is so simple. But if you want to simplify it even more, you can skip making your own spice blend and use ground spices. I highly recommend making the spice blend by yourself though. Store-bought ground spices are weak in both flavor and aroma. At least ground your own black pepper. It really makes a difference.
Air-Frying Time for Chicken
I have had 3 air fryers before. And they all perform very differently. So the time it usually takes to cook the chicken varies from one air-fryer to another. To make this Air-fried Black Pepper Chicken or any meat recipe, I highly recommend using a meat thermometer to check the doneness. So you won't over cook or under cook.
Use the time I've given as a rough measurement. The best thing about cooking in an Air-Fryer is, that you can check the meat from time to time. Unlike in ovens, you don't have to worry too much about losing heat.
Bone-in or Boneless Chicken?
I always use skinned bone-in chicken for this Black Pepper Chicken recipe cause they don't dry out much when air-fried. Also growing up we always had bone-in Chicken in my home, so for me, this is what we traditionally used.
If you want to use boneless chicken, the best option would be Boneless skinless Chicken thighs. Because they are fatty, flavorful, and don't dry out as quickly as chicken breasts. If you really want to use chicken breasts, then you may have to reduce the cooking time. Chicken breasts cook relatively faster.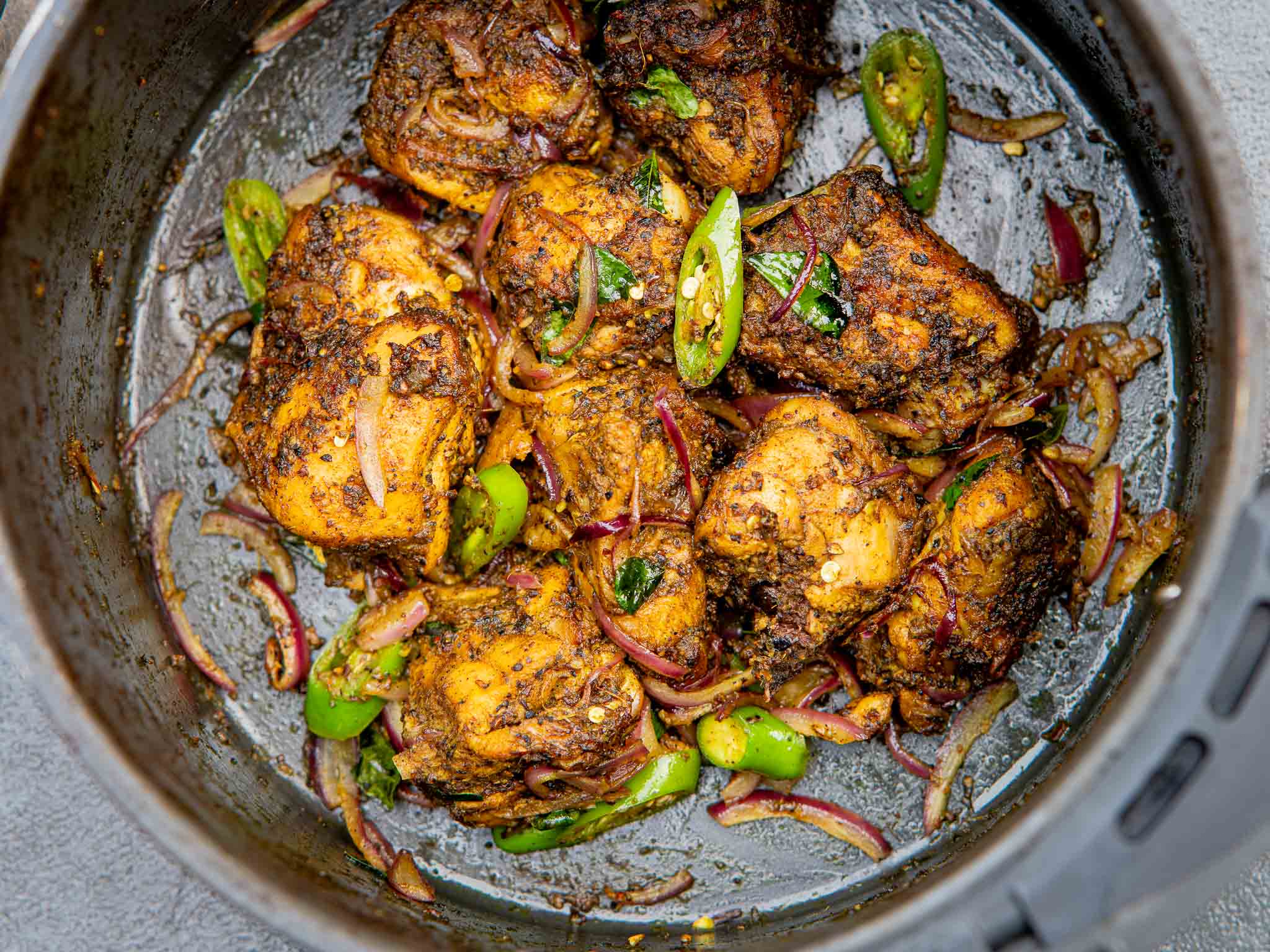 Serving Ideas for Air-Fried Black Pepper Chicken
They go fantastic with white rice or yellow rice. Or even with fried rice or on top of stir-fried noodles.
You can serve it with whole wheat Chapathi or Roti for a healthier option.
For a guest menu, try Yellow Rice, Air-fried black pepper chicken, creamy potato curry and eggplant moju, or lettuce eggplant salad.
Recipe Video
(Please give a few seconds to load the video)
Other Recipes you might like:
Air-fried salt and pepper chicken wings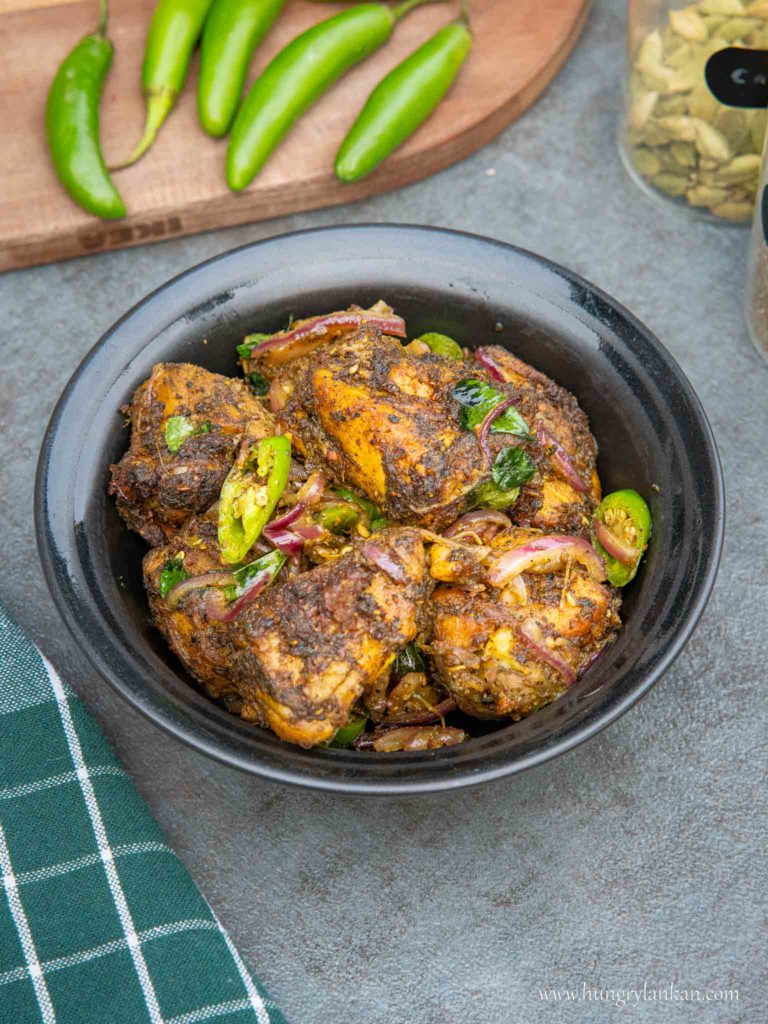 Air-Fried Black Pepper Chicken
Description
One of my best Air-Fried Chicken Recipes. The crusted black pepper and spices on the chicken make it so good and the crunchy onions make it even better. You need to try this!!
For the Spice Mix
To Marinate Chicken
Other
Instructions
Add black peppercorns, cumin seeds, fennel seeds, cardamom and cinnamon to a small pan. Roast the spices in medium flame, until spices are aromatic and cumin and fennel seeds start to turn dark brown. 

Keep mixing the spices to prevent them from burning and to ensure even roasting. Btw don't miss to watch the recipe video in the description

Add them to a mortar and pestle. Grind into a powder.

Add chicken pieces into a bowl. Add spice powder mix, salt, vinegar, ginger garlic paste, turmeric powder, and ghee or oil. Mix very well until chicken pieces are thoroughly coated with the spices.

You can marinate the chicken in advance and keep it in the fridge. It'll make the chicken more tasty.

Add the mixture directly into the air-fryer basket (or use an air-fryer-safe baking dish to put inside the air-fryer), and fry for about 13 - 15 minutes at 390F/ 200c or until the internal temperature reaches 165F/74c. The time may vary depending on the size of the chicken pieces. 

The air-fryer doesn't need to be pre-heated. If you cook chicken in baking dish you may have to increase the cook time in about a minute or two depending on how long it takes the baking dish to heat up.

When the chicken is cooked through, add the sliced onion, chilies, and curry leaves. Sprinkle a little bit of salt over the onions.  Mix well with the chicken pieces. 

Cook in the air-fryer again for 1 - 2 minutes until onions are slightly cooked. They taste better when they have some crunch. 
Black pepper chicken, Air-Fried Chicken, Black pepper Chicken in Air Fryer, Air-fried recipes, Air-fried chicken, Air fried chicken recipe, Air fried spicy chicken, Air fried Indian style chicken, Air fryer masala chicken, Air fried black pepper chicken recipe, Easy air fried chicken