Sri Lankan Coconut Cake or as we call it Pol cake/පොල් කේක් is a delicious sweet treat that I always make for my Sri Lankan new year festive table along with my family favorite butter cake. It's super moist than most other cakes and gets better and better as time passes. So this is the perfect cake to make in advance. Great for tea parties and road trips. Serve it with some Ceylon tea, you got yourself a real treat!!
Sri Lankan coconut cake/ pol cake is very different from other cakes. For example, this one doesn't require a beater. Which kinda reminded me of my Banana bread recipe. We use Kithul treacle (Kithul syrup) instead of sugar. Of course, you add a lot of coconut which adds a nutty flavor and texture and makes the cake more moist. Also, add dates and cashews too. We also brush the cake with Kithul treacle at the last part of baking to get that sticky, dark, shiny top on the cake.
Add-Ons
For my Sri Lankan Coconut Cake, I only add pitted dates and cashews as add-ons. But you can add candied ginger or any kind of candied fruits of your choice. Raisins are another popular add-on that some people like to add to this coconut cake.
If you don't like any of the add-ons you can skip adding any of them. The cake would still taste delicious!!
No Kithul Treacle?
Kithul treacle is a necessary ingredient in Sri Lankan coconut cake but it's very hard to find outside of Sri Lanka. The next best ingredient to substitute for Kithul treacle would be Coconut treacle. Many Sri Lankans use Coconut treacle instead of Kithul treacle. Maple syrup or golden syrup also works but the taste would be different of course.
You can also use dark brown or brown sugar mixed with water. Use 3 parts of brown sugar to 1 part water to make the syrup. For example, to make 340g of syrup, use 255g of sugar + 85g of water.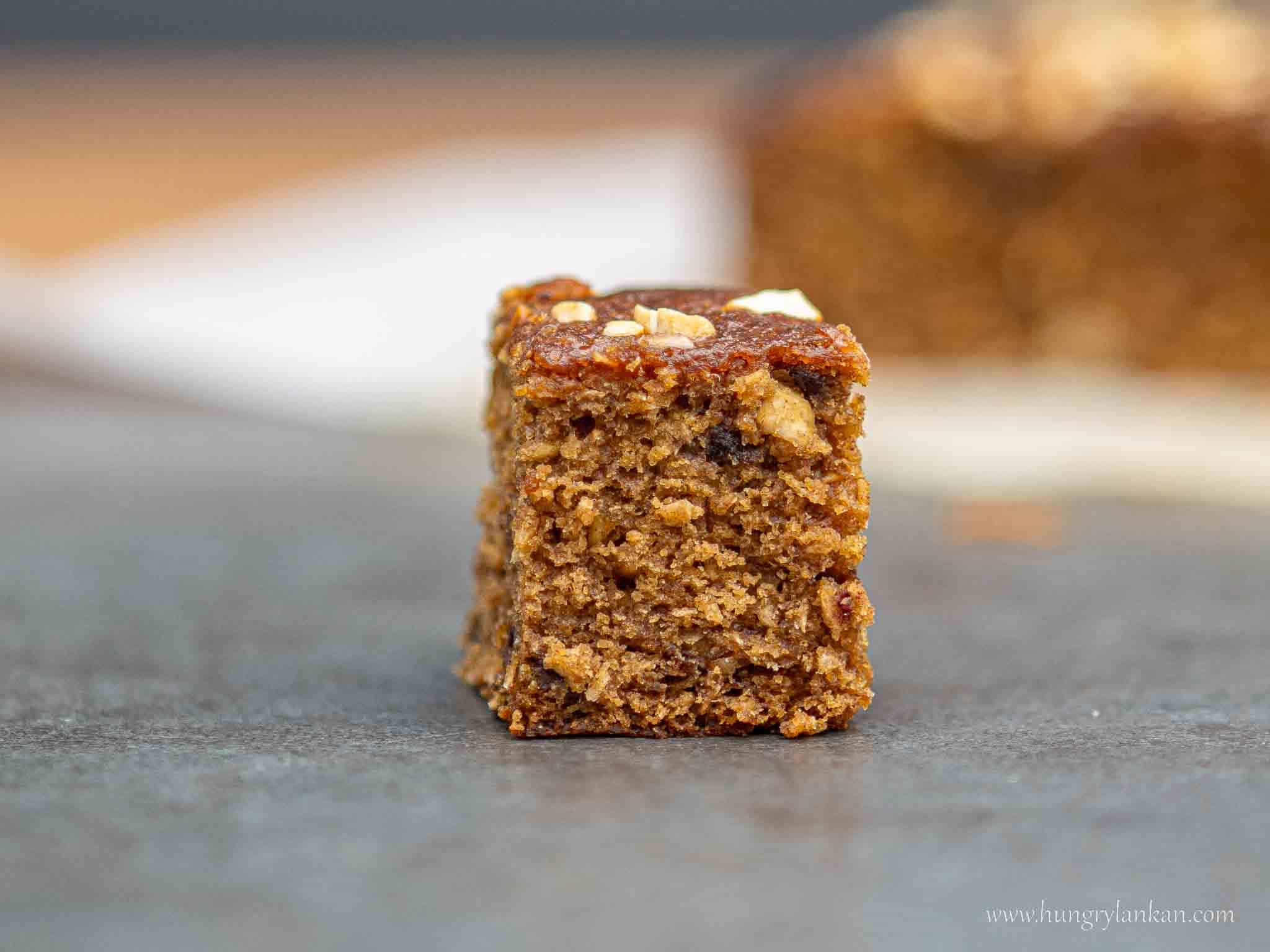 Serving Coconut Cake
You can serve the cake the same day but this cake actually tastes better the next day. When the cake is completely cooled down, cover it up with cling wrap and let it sit overnight. Serve it with coffee or tea (Ceylon tea is the best) for a wonderful treat. The cake can last up to four-five days on the counter without refrigeration. Store it in a tightly sealed container to keep it moist.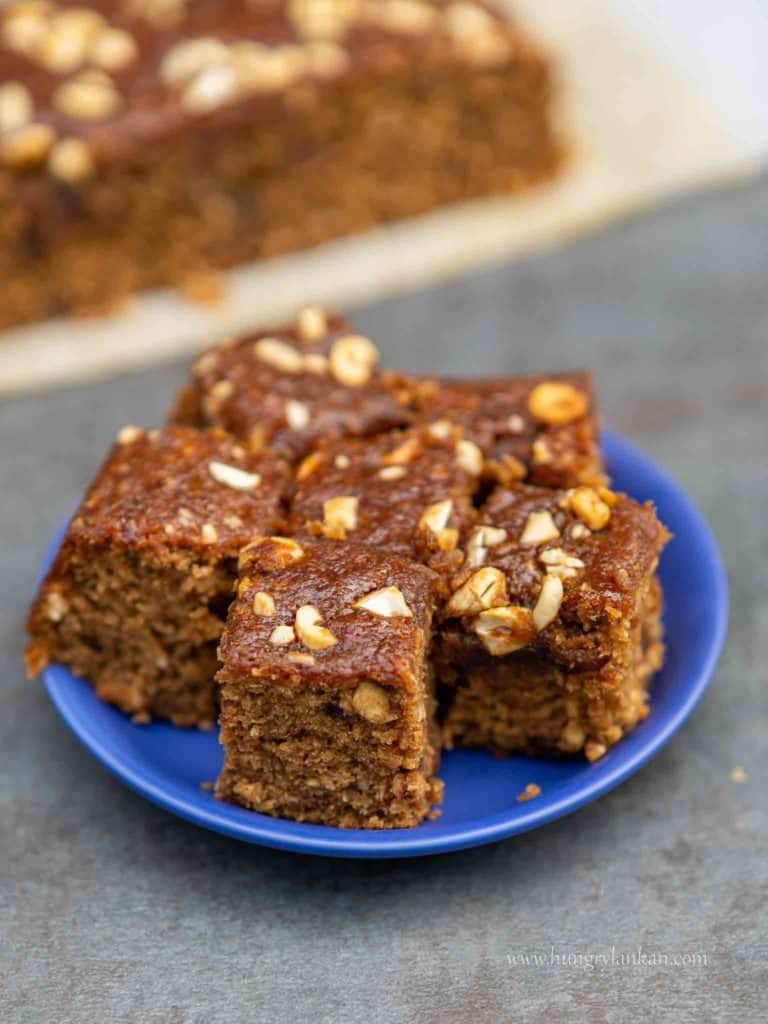 Sri Lankan Coconut Cake
Description
Sri Lankan Coconut Cake or as we call it Pol cake/පොල් කේක් is a delicious sweet treat that is made with fresh coconut, treacle, dates, and some cashews. It's so easy to make with no beating of whisking or any machines. The cake always turns out so moist and delicious and it's the perfect cake to serve with tea or coffee.
You'll see a long list of ingredients and steps but that's because I've broken it down to very small steps so it's easier to understand. Trust me this recipe is fool-proof <3
For the Dates pulp
For the flour mix
For the spice mix
To make the Cake
To butter the baking pan
Instructions
Make the date pulp

Chop the pitted dates into small pieces and add them to a heat-proof small bowl or a cup. Pour the hot tea over it and let them soak for about 20 minutes. 

You can continue to the next steps while the dates are soaking. Tea helps to make the cake turn darker in color. You can substitute tea with hot water or milk as well.

After 20 minutes, mash them into a paste using a spoon or with your fingers. Keep it aside to cool down.

Make the Spice mix

Add cardamom and cloves to a mortar and pestle. Pound them until the cardamom seeds and cloves turn into a fine powder. Pick and discard the cardamom shells. Keep it aside. 

Sieve the flour mix

Into a bowl, sieve all-purpose flour, baking powder, baking soda, and salt. Give a quick mix. Keep it aside. 

You can also do this step while the coconut and treacle mixture / pol pani mix cools down (in the next step) to save time

Make Pol Pani (coconut treacle mix)

Reserve 3 tbsp treacle for later to brush on the cake. Add the rest of the treacle to a large deep pan. Turn on the heat and bring the treacle to a simmer. Add the spice mix you made and the grated coconut. Mix and cook until the mixture starts to thicken up. Keep it in medium heat. Continue stirring to stop the syrup from burning and to speed up the thickening process.

Mix the add-ons

When the coconut-treacle mixture thickened up, turn off the heat. Add mashed dates, 2/3 of the cashews (keep the rest to sprinkle on top of the cake), and Butter. Mix well until the butter is melted and the mixture is well combined. Let the mixture cools down to room temperature. 

Meanwhile, preheat the oven to 350F/175c for at least 20 minutes. Butter an 8-inch * 8-inch cake pan. Line the cake pan with parchment paper and apply butter again. Make sure to leave a small flap of parchment paper so it's easier to lift the cake when it's baked.

When the coconut mixture is cooled down, add the eggs and vanilla. Mix well until you don't see any unmixed egg yolks or whites. 

It's very important that the mixture and the pan has cooled down before you add eggs to stop the eggs from coagulating/cooking.

Then add the flour mixture, a little by little, to the coconut mixture. Gently mix with the spoon until no flour lumps are left. Do not over mix as it can affect the texture of the cake.

Transfer the mixture to a baking tray. Tap on the counter to remove any air bubbles.

Sprinkle the rest of the cashews on the top.

Bake the cake in the preheated oven for 35 - 45 minutes or until the middle is not jiggly and when you insert a toothpick into the middle, it shouldn't come out with wet batter. 

Let the cake bake for at least 35 minutes, undisturbed without opening the oven door. Sudden drop of oven temperature can make the middle of the cake to sink.

When the timer is up, take the cake out. Brush the cake with the rest of the treacle. Bake it again for another 5 minutes.

After 5 minutes, take the cake out of the baking tray to stop it from baking any further. Cool it down on a cooling rack.

You can serve it now or it will taste even better the next day. Store the cake in a sealed container, wrapped with plastic wrap and it will last about 4 - 5 days without refrigeration. 
Notes
Whole spices can be substituted with store-bought ground spices as well. Use 1/2 tsp of each grounded spice to substitute whole spices.
I use frozen grated coconut that comes in blocks. I microwave them for about a minute until they are thawed. But you can use freshly grated coconut and they'll have a better coconut flavor. Frozen grated coconut is available in Asian stores. 
Sri Lankan pol cake, Pol cake, පොල් කේක්, Sri Lankan coconut cake, Coconut Cake, Coconut bread, Sri Lankan cakes, Date cake, Date coconut cake, Date bread, Pol cake recipe, Sir Lankan pol cake recipe,