I looove Biryani. I mean who doesn't? It has everything you need. It's spicy, tangy, sweet with those fried onions, and when it mixes with that fresh yogurt raita… It's heaven… . This is my Stir-fried Egg Biryani.
But do you always have time to make a biryani the authentic way? You know the long marinations of meat, frying onions, and half-cooked rice and then layering and steaming.. so much work. I know.. I know.. You need to spend some time if you really want the authentic stuff. That's how I like my Biryani too. But if you're too busy or you simply don't want to spend so much time in the kitchen, but you really need to have a biryani, this is an option I have for you, Stir fried Egg Biryani. (oh my lazy brain has come up with so many options. I'll post them later too) 
You need some cooked rice. It doesn't matter which variety it is. What I have used here is some leftover rice from Chinese takeout. For ground spices, you need coriander powder, chili powder, and garam masala. But you can skip all these spices and use some ready-made biryani masala powder. You also need yogurt. If you don't have yogurt, use a large diced tomato or 1tsp of tomato paste with a bit of water instead. It would be just fine. And you also need boiled eggs. I usually break my egg and add that to the rice. But you can serve that on the side. Please don't give up just looking at the ingredients list. I know it's long but you already have many of these in your pantry.
Serving options: I made a quick air fried chicken wings and a mint coconut salad. Both of these are optional. A meat curry, vegetable gravy, Raita, or any kind of salad would also work with this biryani. Or you can eat this rice just as it is. it's still so delicious.
Also check out my Chicken Dum Biryani (Kacchi style)
Pin this to your favorite Pinterest Boards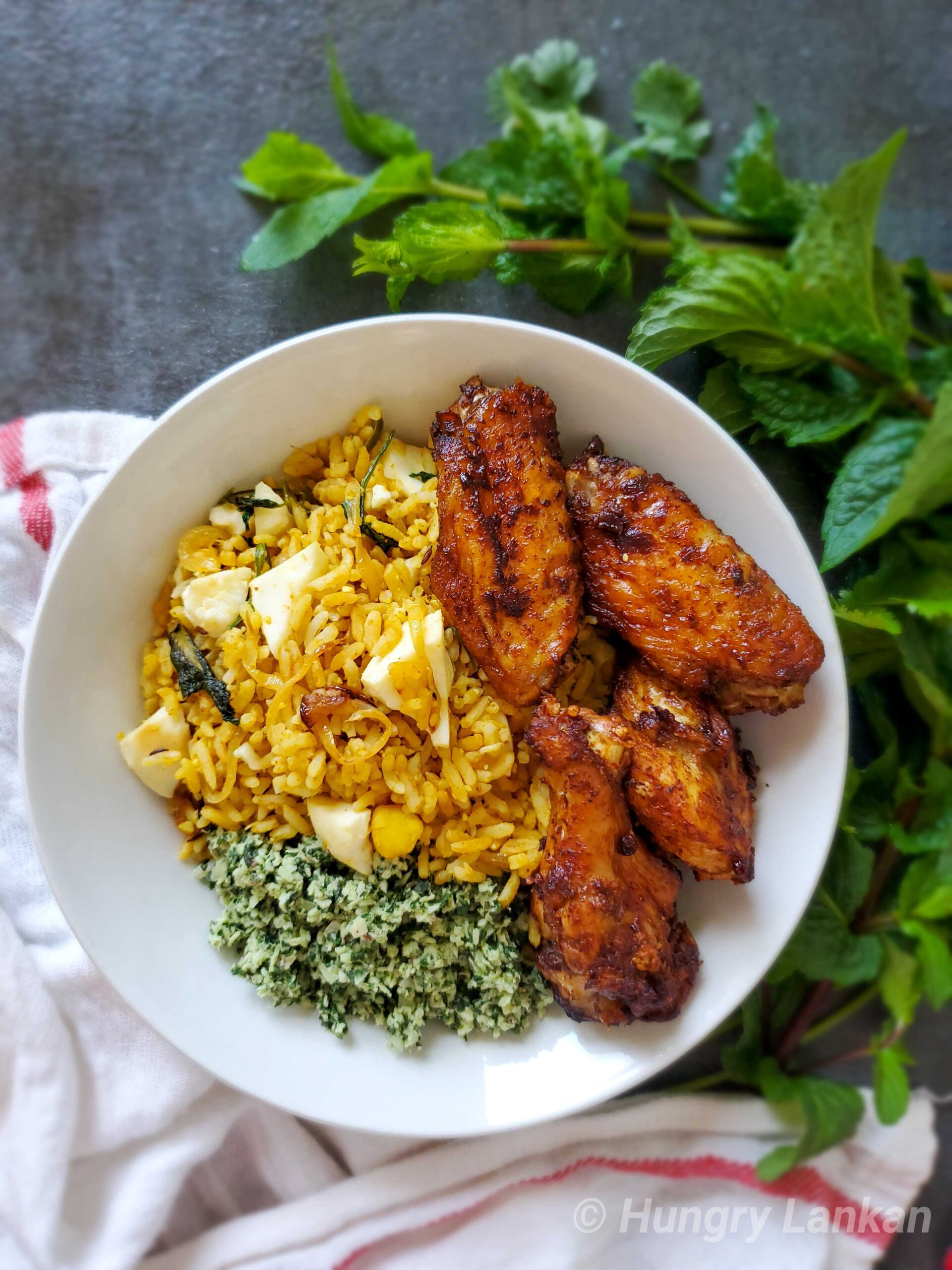 Egg Biryani (Stir-fried)
Description
Craving for Biryani but have no time to make? Try this stir-fried quick biryani recipe which only needs 30 mins of your time
whole spices
Ground spices
Instructions
Heat ghee/oil in a pan. Add Cumin seeds, cinnamon, peppercorns, bay leaf, cardamom, and cloves.

Add sliced onion and fry them until they are golden. Then lower the heat and add ginger garlic paste and green chilis. Mix and fry for a few seconds.

Then add all the ground spices. Stir and add yogurt. Again mix everything and cook for another minute.

Then add cilantro and mint leaves. Add salt lemon juice and taste the mixture. If it needs more acidity, add some more lemon juice.

Now add rice and mix together. Cover and keep in low heat for about a minute so the rice grains can absorb the flavors better.

Then you can add boiled egg chunks and mix that up if you want or you can serve it on the side.
biriyani, egg, egg biriyani, indian, quick, quick biriyani, spicy, sri lankan, stir fried, stir-fried