Try my one-pot green bean and potato curry for a quick weekday meal. Dairy-free and can easily adapt to make it vegan.
If you have already tried my creamy potato curry and green bean curry, this dish tastes like a marriage of those two wonderful dishes. The curry is mild in spice, has a wonderful nutty flavor and a hint of sweetness from coconut milk and it's very aromatic from true Ceylon cinnamon, Curry leaves and Pandan leaves. I love this curry as a comfort food. Especially if I'm having any tummy issues, I'm recovering from flu, or whenever my body can't handle heavy food.
Ingredients and Substitutes
Onions, garlic, green chili
Onion and garlic are a must in this recipe. You can skip green chilies if you don't like it but I highly recommend adding at least a mild chili variety to this. Not particular for heat but for the flavor.
You'd notice that I use a very little amount of garlic. I'm a HUGE garlic fan and I add a ton of it when I make other dishes. But trust me, in this recipe, you do not want to add too much garlic. All the other flavors are mild in this green bean and potato curry and garlic can easily overpower everything else.
Although I use onions, if you have shallots, it's a much better ingredient to use in this curry, instead of onions.
Curry leaves and Pandan leaves
Both these herbs are a must for this curry. You can find curry leaves in most Indian grocery stores. I'll add an amazon link as well. Pandan leaves are available in Asian stores. Especially in Vietnamese or South East Asian grocery stores.
Curry powder
I use Sri Lankan unroasted curry powder. It's a mild curry powder with no heat. If you can't find this use any mild curry powder you have that contains coriander and cumin as the main ingredients.
Cinnamon
Use true Ceylon cinnamon if possible. Most grocery stores sell cassia as cinnamon and it has a very storing licorice flavor that can over powder all the other flavors. If you use this common cinnamon make sure to use a very small piece.
Maldives fish flakes/Umbalakada
This is a common Sri Lankan ingredient that we use to add some umaminess to dishes. Maldives fish flakes are made with dried tuna fish (mostly from skipjack tuna). Skip if you can't find this ingredient.
Fenugreek seeds
Helps to thicken up the curry. Available in most Indian grocery stores. You can find it on amazon as well. Skip if you don't have this.
Coconut milk
I use canned coconut milk as it's the most convenient for me. Fresh coconut milk gives the best flavors but it's not available everywhere. I also like the Aroy-D brand coconut milk that comes out in milk cartons. You can use coconut milk powder as well. Some canned coconut milk is very very thick due to thickeners added to them. So I highly recommend you either buy Chaokoh brand or the Aroy-D brand. Both come from Thailand.
How to serve this green bean and potato curry?
This curry is very mild in flavor and creamy in texture. I highly recommend pairing this with a tangy or citrusy dish to cut through the creaminess from coconut milk and also serve over rice. Even some onion salad made with lime dressing would be wonderful with this curry and rice.
One of my favorite menus to go with this curry are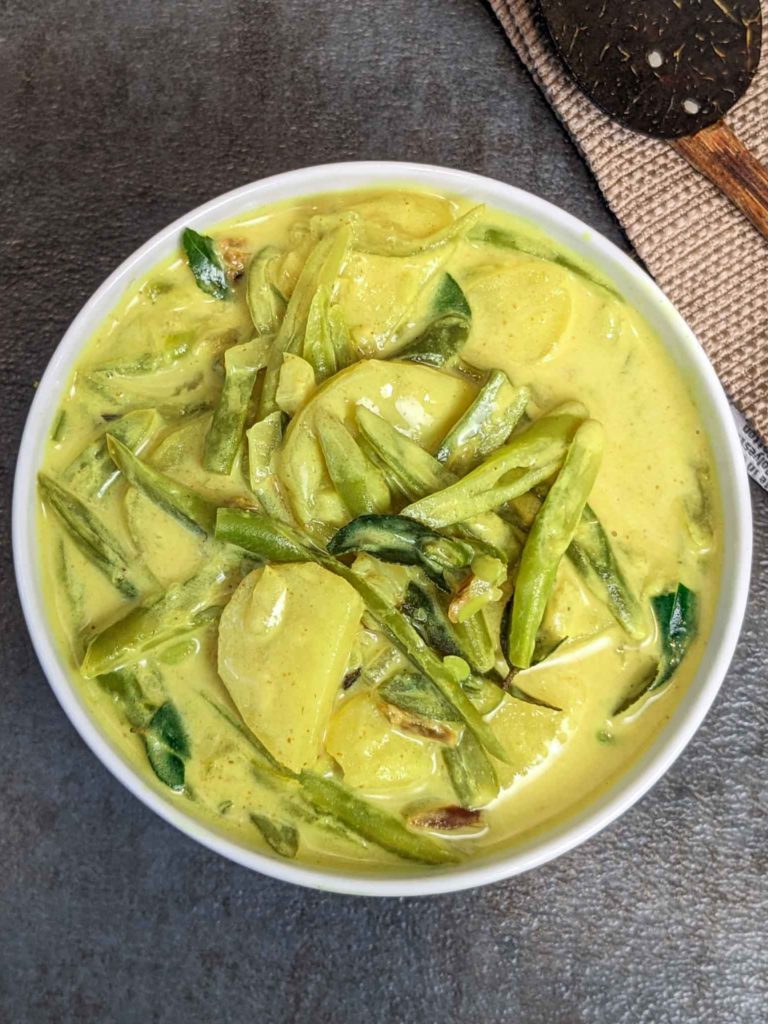 Green Bean and Potato Curry
Description
Try this one-pot creamy green bean and potato curry for a quick weekday meal. It's dairy-free and easily adaptable to make it vegan.
Instructions
Cut green beans into long (2 inch roughly) slices. Cut the potatoes into thin slices as well. They both should have roughly the same thickness. 

Add everything into a deep pot except for a few curry leaves and, thick coconut milk. Mix well.

Put on the stove and cook on medium heat until coconut milk starts to simmer. 

Then turn the heat to low. Put the lid on the top of the pot but leave some space so the steam can escape. Cook until potatoes are about 90% cooked. Make sure to mix from time to time to stop the curry from bubbling and spilling over.

Then add thick coconut milk, curry leaves (break them to release more aroma) and mix gently with everything else. Once the curry starts to simmer, turn off the heat.

optional step

Serve with another tangy/citrusy dish to cut through the creaminess (read the serving ideas part in description). If you're serving the curry alone with rice, you can add a few drops of lime juice to the curry to bring some freshness to it.
Notes
This is a mild creamy curry that we usually serve with one or more tangy (such as chicken curry) or citrusy (such as coconut sambol, onion salad) sides and rice. But you can serve it alone over some rice too. In that case, you can add a few drops of lime juice to the curry once the curry is done cooking. Wait until the curry cools down a little bit before you add lime. Too much lime can curdle some of the coconut milk, so just a few drops would be enough to bring some freshness and citrous to the dish.
Sri Lankan green bean and potato curry, Green bean curry, Potato curry, Vegan curries, Healthy recipes, Healthy curry, Dairy free curry, Sri Lankan food, Sri Lankan recipes