Spicy, umami, and salty Tuna and Cabbage stir-fry for a quick and healthy delicious meal. This recipe only needs a few ingredients and will go very easy on your wallet too.
I don't know about you but current inflation and all the grocery store bills are really taking a toll here in my family. So I make more and more budget-friendly quick and easy meals now but I also want my meals to be healthy and delicious. This spicy tuna cabbage stir-fry is one of my favorite quick meals that I make for lunch to go with rice.
Ingredients and Substitutes
Many of the ingredients here are so easy to find anywhere in the world. So I'm not going to waste your time talking about them. But there are a few ingredients that you'd only find in Asian stores and possibly online. And also there are some ingredients that I have more info to share with you. I'll talk more about them in the section below.
Tuna:
You can use any variety of canned tuna in this recipe but make sure it's in oil, not in water or brine. I'm saying this because tuna in water splatters a lot ( I mean A LOT with tuna pieces all over the stove) when you add it to the oil. And it would make a huge mess on your stove. Even tuna in oil splatters a little bit but that's more manageable when you use a large wok or a frying pan.
I personally prefer chunk yellowfin tuna in olive oil. I think it has more flavor and I also like the firm texture which works really well in this recipe.
Cinnamon:
Adds aroma and a subtle sweet flavor to the dish. I highly recommend using true Ceylon cinnamon which has a subtle, not-overpowering cinnamon flavor. Also has more health benefits I must say. If you have Chinese/Indian cinnamon please only use 1 small piece. Otherwise, it would overpower everything else.
Curry leaves and pandan leaves:
These two herbs are very aromatic and add a unique aroma to the dish. And they also make the dish smells less fishy. You can get curry leaves from almost any Indian grocery store or from amazon. Some other Asian stores carry them as well.
Pandan is a common herb in Southeast Asian countries. You can find them in many Asian stores (especially if there's a Thai or a Vietnamese grocery store). If you can't find fresh ones, check the freezer aisle as well.
Can't find both these herbs? Do not stress, you can still make a delicious stir-fry.
Soy sauce:
I use light soy sauce, which is saltier and has more flavor. You can also use regular soy sauce available in many local stores. But do not use dark or sweet soy sauce.
Can I make this stir-fry less hot?
This stir-fry is spicy. I'm not talking about American spicy. This one is actually hot. That being said, you can make it with fewer chilies and less chili flakes. It won't make much of a difference to the flavor of the dish. Or you can use a milder chili variety, like milk jalapenos and mild chili flakes.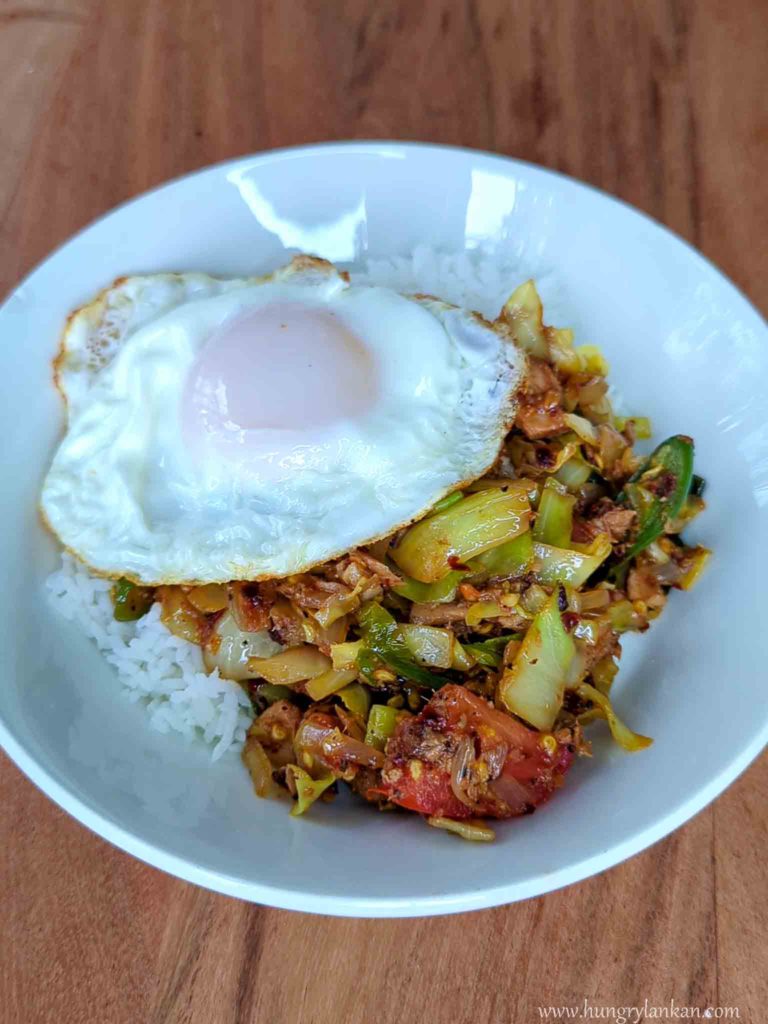 How to serve this Stir-fry?
I usually pair it up with a fried egg and trust me it elevated this dish to whole another level. The yolk helps to balance out the saltiness of the tuna and cabbage and also adds the necessary creaminess to the dish.
If you have some extra time on hand, try it with my creamy potato curry or lentil curry. Omg so so good! These creamy coconut milk-based curries go so well with spicy umami cabbage stir-fry.
It also goes well as a sandwich filling with some mayo and country-style white bread.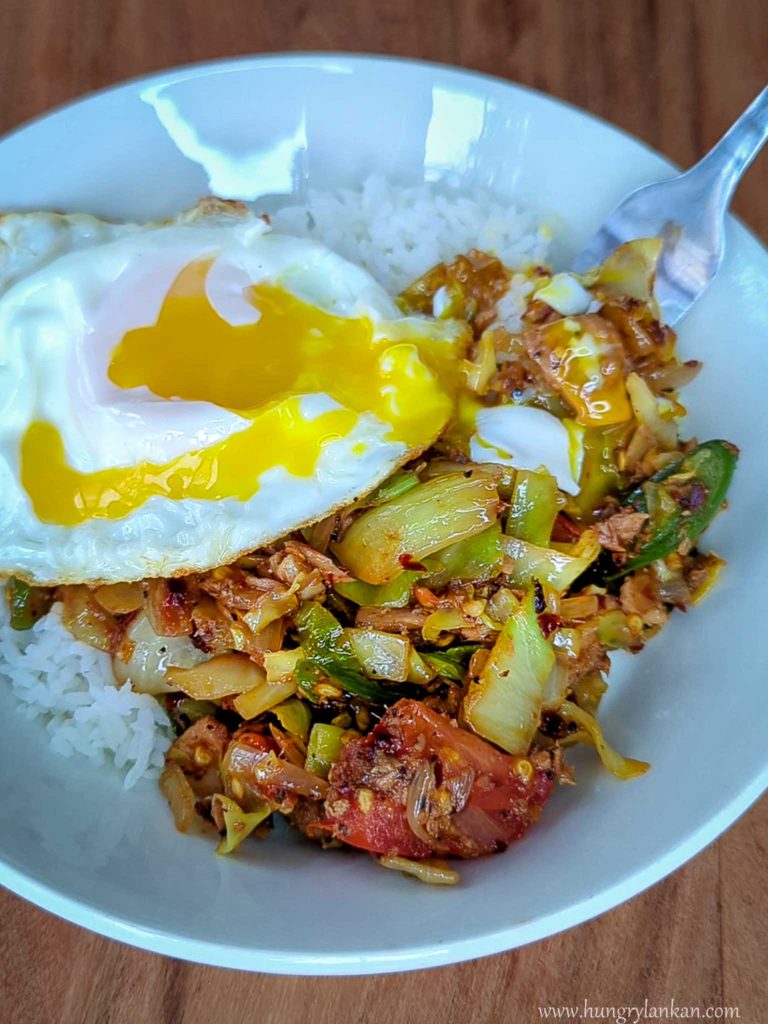 Spicy Tuna Cabbage Stir-Fry
Description
Spicy, umami, and salty Tuna and Cabbage stir-fry for a quick and healthy delicious meal. This recipe only needs a few ingredients and will go easy on your wallet too.
Instructions
heat a wok or a frying pan on medium heat. Add oil. 

When the oil is heated add cinnamon sticks, pandan leaves, garlic, and curry leaves. Saute until garlic starts to turn lightly golden on the edges.

Then add tuna and break it into pieces with the spoon. Mix well with the oil and let it fry for about a minute.

Add chilies, cabbage, onions chili flakes, and black pepper and mix well. Cook for about 1- 2 minutes, while mixing from time to time until the cabbage starts to wilt down.

Add soy sauce and salt to your taste. Mix everything. Add tomatoes, mix, and turn off the heat. Serve with rice and a fried egg. 
Notes
I use true Ceylon cinnamon which is mild in flavor and not too lycoris. If you use Chinese/Indian cinnamon, the most common type in the US, 1 piece would be enough. Otherwise, it would be too strong.
You can also use albacore or any variety of tuna of your choice but make sure it's in oil, not in water or brine.
Quick meals, Budget friendly meals, Cabbage stir-fry, Cabbage recipes, Stir-fry, Wok cooking, wok recipes, Easy recipes, Quick lunches, One-pot meals