If you love spicy food and if you're looking for a simple yet so delicious beef recipe, I promise you're going to love this Simple Spicy Beef Fry recipe.
The recipe is very straight forward so even if you're a beginner you can make this dish without any problem. And you know the best part is? With this beef fry recipe, you're actually going to learn two beef recipes. Here's how.
First, what we're going to do is to add everything to the pressure cooker and cook until the beef is tender. And then we're going to cook down all the liquid and then fry them in coconut oil with some more additives. Since we add pretty much the same ingredients we use to make beef curry when we pressure cook these beef pieces, you can actually use it as a beef curry too. All you have to do is skip the frying process, add some coconut milk to the curry and cook it down a little bit.
Spices and Substitutions:
I use all the Sri Lankan curry powders for this spicy beef fry recipe. But you can definitely use any kind of spices you prefer. In fact, this spicy simple beef fry recipe is inspired by the famous Kerala (Indian) Beef fry recipe. So you can substitute Sri Lankan roasted curry powder with a mix of cumin and coriander powder. But make sure you dry roast until they are dark brown to bring out that smokey flavor. If you don't have any of these, a generic curry powder would also work fine as they also contain cumin and coriander powder.
For the spice, I use Sri Lankan roasted chili powder and chili flakes. If you don't have roasted chili powder, dry roast any kind of chili powder you like in a pan. And add that to the beef. Roasting dry curry and chili powders bring out the essential oils in them, thus add more flavor to the curry and also add unique smokiness.
Curry leaves are essential and be generous with your curry leaves when you fry the beef pieces. They add an amazing aroma to the fry and the pop of green color in the dish makes it pretty.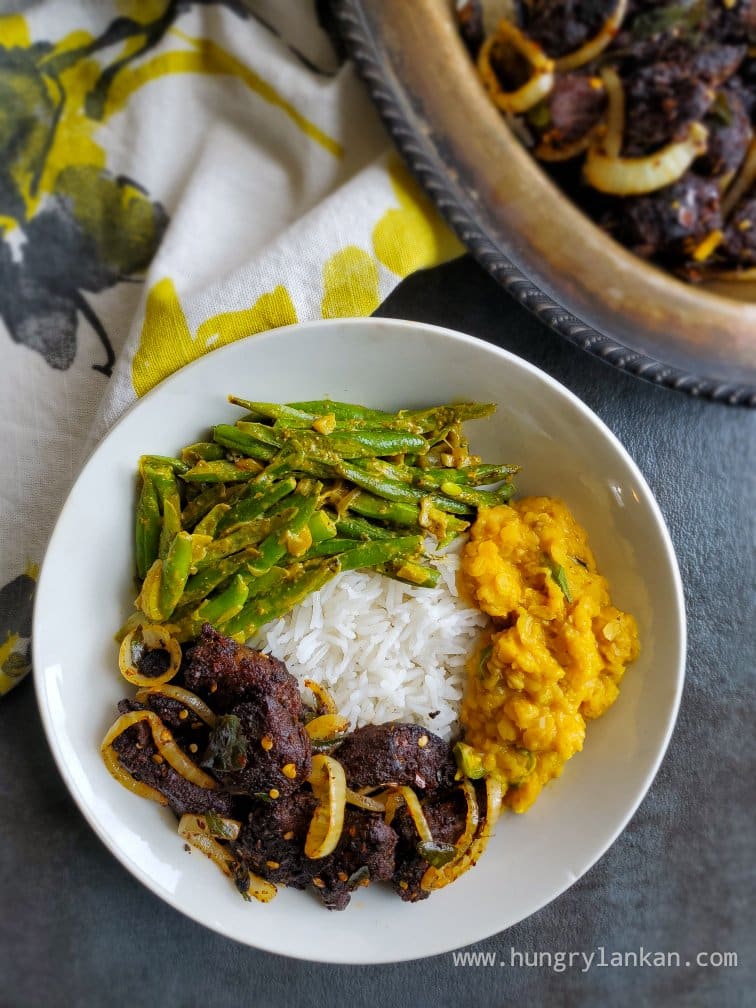 Cooking with pressure cooker
I use a traditional pressure cooker in the recipe and allows the beef to boil in spices and aromatics for two whistles on medium heat. And then I let it cool down to open the lid, without quickly releasing the pressure. I only add about 2 tbsp of water just to combine everything well. You'd notice that after boiling beef in the pressure cooker you left with way more than 2 tbsp of water. Now that's all the water releases from the beef pieces. That liquid is full of water so don't throw that out. Cook the beef pieces again on high heat until most of the water left evaporates. The rest of the water would dry out as you fry them.
You can use your instant pot instead and choose the manual setting and cook for 20 mins on high pressure. And then let it naturally depressurize for about 10 mins. Then turn on the saute mode and cook until most of the water evaporates.
If you use the stove-top method then mix everything in a thick bottom pot. Use a touch of more water. Cover the pot with a lid and cook for about 45min – 60mins until beef is tender. Add water if the pot dries out.
Serving options :
The amount I've given here is enough to serve 4 – 5 people. You can use this beef fry as an appetizer, or with rice, or even use it in a wrap.
Affiliate links to the products I use: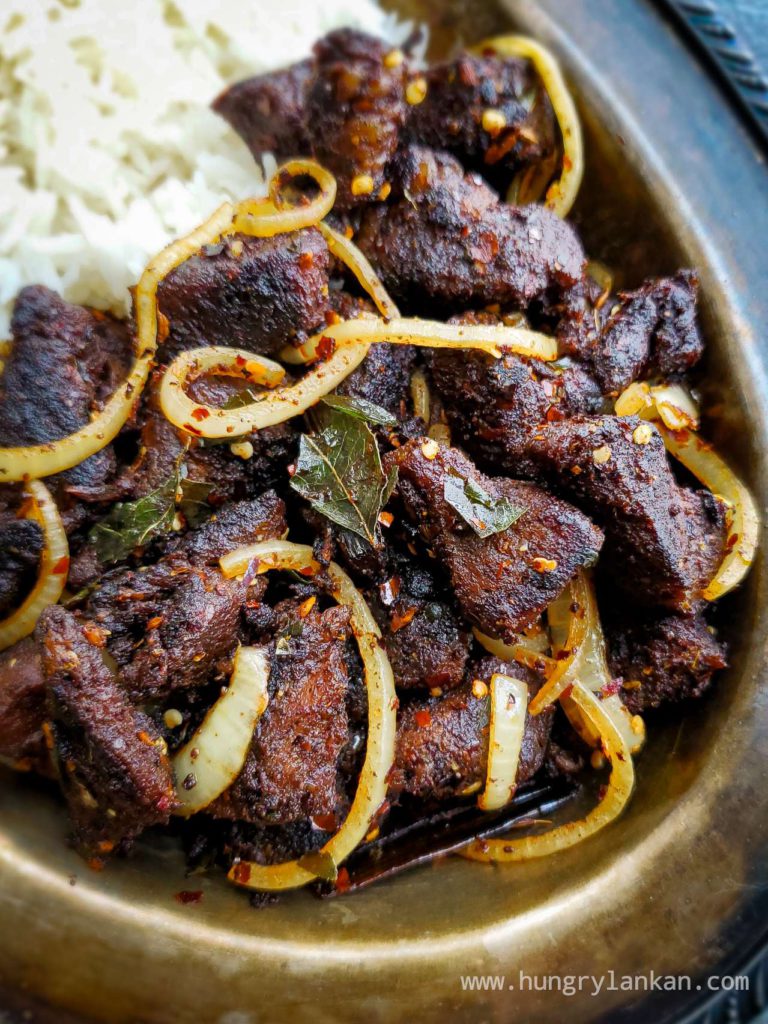 Simple Spicy Beef Fry
Description
If you love spicy food and if you're looking for a simple yet so delicious beef recipe, I promise you're going to love this Simple Spicy Beef Fry recipe.
To pressure cook beef
To fry
Instructions
Cut the beef into roughly 1 - 11/2 inch thick pieces.

Add all the ingredients under "To pressure cook beef" to the pressure cooker (read the description for alternative methods) and mix well together.

Close with the lid and pressure cook for 2 whistles (or 20 mins in an instant pot). Let the pot cool down and naturally depressurize. This how it looks like when the beef is cooked. You'd have some liquid from the beef but that's okay.

Turn up the heat and cook uncovered until most of the water has evaporated. Make sure the bottom is not burning.

Now, heat a large frypan and add about 1 tbsp of coconut oil. Add ¼ tsp of cumin seeds and let them sizzle in the oil. Then add your curry leaves and let them splatter.

Lower the heat and immediately add your cooked beef. If there's any gravy left add that too to the pan.

On medium-high heat fry the beef pieces until they become nice and brown. Make sure you flip them from time to time so all the pieces get evenly brown on all the sides.

Add the chili flakes, salt to taste, mix well and turn off the heat.

Add your onion rounds or slices and stir with the beef. It's better when they remain nice and crunchy.

Add some lime juice to your taste and mix well. (optional step)
Beef, Beef fry, Kerala beef fry, Spicy fried beef, Beef, Fried beef, Spicy beef, Sri Lankan beef, Sri Lankan beef fry, Simple beef recipe, Beef appetizer