If you're a fan of spicy, sweet, tangy, and savory pickles, then Sri Lankan Malay pickle (aka Malay Achcharu/මැලේ අච්චාරු) is a must-try! This delicious condiment is made from a variety of vegetables and spices. Such as carrots, capsicum, green chilies, shallots, garlic, ginger, and mustard seeds all cooked in a blend of dates and vinegar. The result is a very flavorful and aromatic pickle that can be enjoyed with almost any dish, from rice and curry to Biryani to fusion dishes like sandwiches and wraps. Plus, it's a great way to add a punch of flavor to your meals without resorting to processed condiments. Give it a try and spice up your taste buds!
This popular Sri Lankan dish is believed to have originated from the Malay community that settled on the island, centuries ago. Still to this date, the dish is very popular among the Sri Lankan Muslim community. Especially as a side dish to Sri Lankan style Biryani. This pickle has all the right flavors, it can elevate any meal to the next level.
Ingredient Info
I won't talk about all the ingredients here but a few I have some additional info I think would be useful.
Vegetables to use:
The most popular vegetables to include in Sri Lankan Malay pickle are Banana peppers, Carrots, Asian shallots, and green chilies.
Asian shallots can be substituted with pearl onions. I prefer the red ones but white pearl onions work great too. You can also use small red onions or the larger shallots you find in US grocery stores.
I've made this same dish with Anaheim peppers, Jalapeno peppers when I can't find banana peppers. And it was still really good. I do not recommend bell peppers though since it has a much higher water content.
Dates:
This ingredient is a must for this recipe. If you use seed-in dates make sure to remove the seeds before you weigh them and soak them.
Vinegar:
Traditionally we use coconut vinegar. But personally like to use white vinegar since it's not too strong as coconut vinegar. If you use coconut vinegar in this recipe, you may want to reduce the amount of vinegar you're using. Always start with a small amount and add after you taste the sauce. The sauce shouldn't taste vinegary. You should use it to balance out the sweetness of dates and sugar.
Chili powder:
Adds a little kick to the pickle. If you don't want any heat you can omit this. But I absolutely recommend using chili powder, not only for the heat but also for flavor and color.
Mustard seeds:
Black mustard seeds are the ones we use traditionally. It's available in almost all Indian grocery stores as this is a very common ingredient in South Indian cooking. If you can't find this you can use yellow mustard seeds, ground mustard, or mustard cream as substitutes.
Dark brown sugar
My mom always used regular white sugar when she makes this. But I really like the molasses flavor the brown sugar adds. You can use either one of them. I also like Sri Lankan Kithul Jaggery and coconut sugar as substitutes.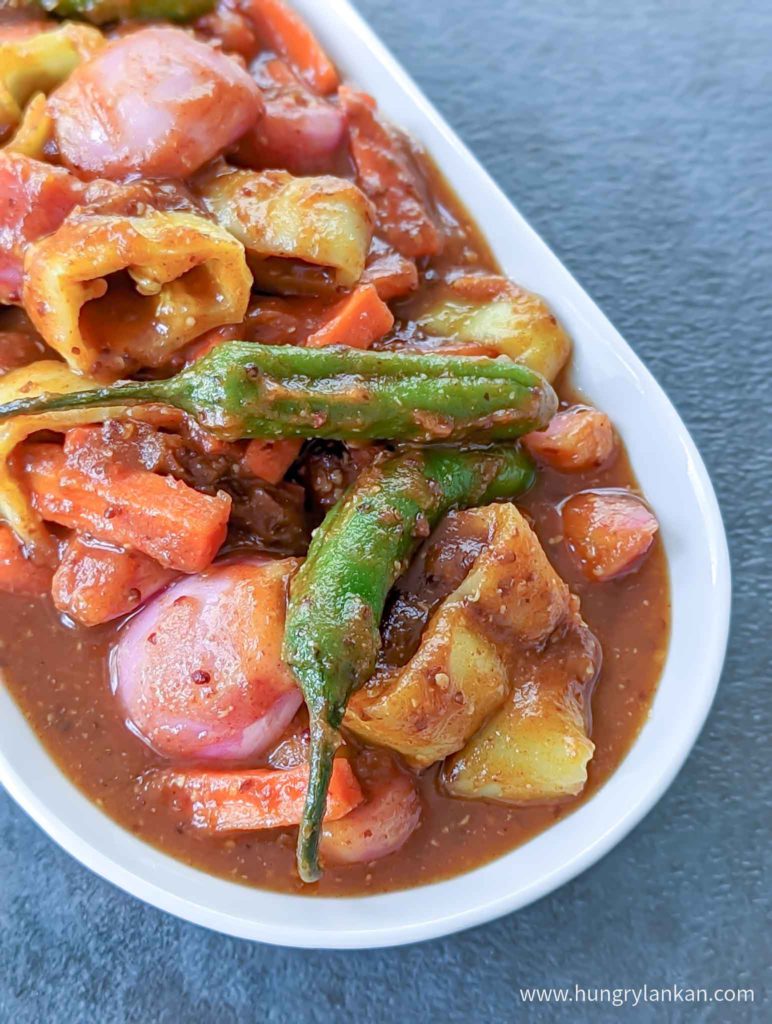 What to serve this Malay pickle with?
Hands down the best menu to serve with Sri Lankan Malay pickle is, Sri Lankan style Biryani, Creamy cashew curry, Mint sambol, and Maldive fish sambol along with some boiled eggs.
You can also serve this with Sri Lankan yellow rice, Chicken curry, beef curry/ Instant pot beef curry, and creamy potato curry.
How long can it last?
You can keep it on the counter for 24 hoursand then I highly recommend refrigerating it in a tightly sealed jar/container. You can keep up to 3 months in the fridge but trust me it'll never last that long. lol.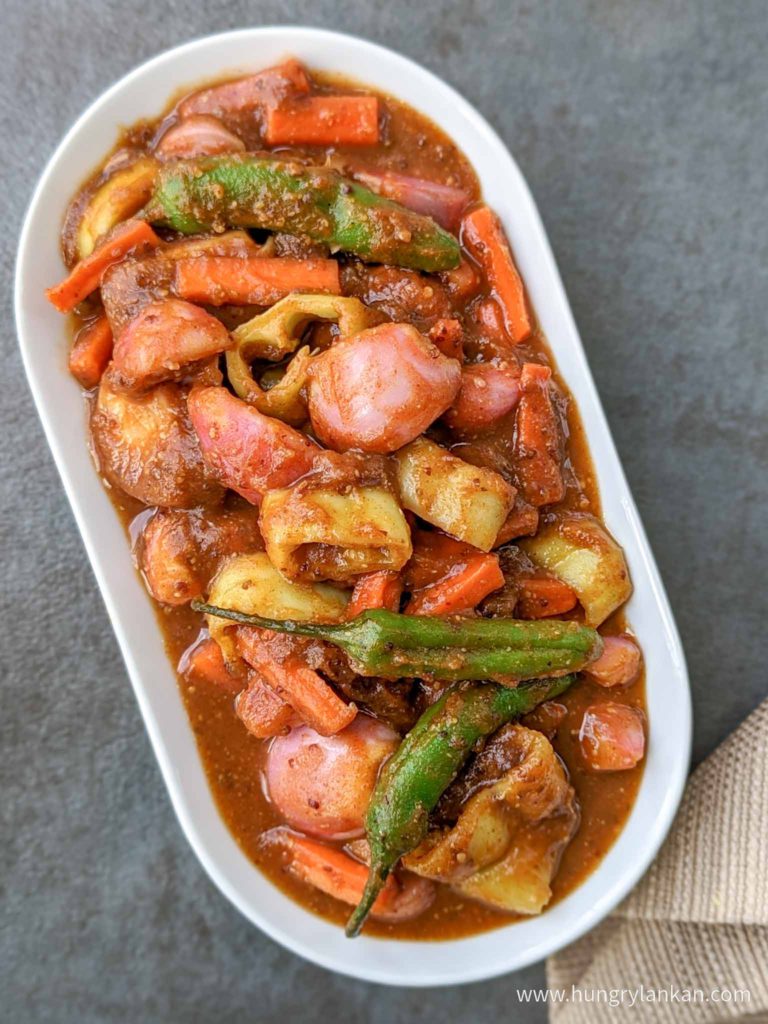 Sri Lankan Malay Pickle
Description
If you're a fan of spicy, sweet, tangy, and savory pickles, then Sri Lankan Malay pickle (aka Malay Achcharu/මැලේ අච්චාරු) is a must-try!
Sauce
Vegetables, Mix-ins
Instructions
Add chopped dates (in the sauce section in the ingredient list) into a bowl and add 1 1/2 cups vinegar. 

Add mustard seeds and 2 tbsp of vinegar to the mortar and pestle (or to a small bowl).  Let both dates and mustard seeds soak for about 2 hours or at least until you ready your other ingredients.

after 2 hours, grind the mustard in the mortar and pestle until it's creamy. You can use a small grinder for this as well. But I notice that they become creamier when you do it in mortar and pestle.

Into your blender, add the dates along with the vinegar that you used to soak them earlier, garlic, ginger, chili powder, cinnamon powder, and 1 tsp of salt. (you can adjust the salt later)*

Blend it until the mixture is smooth and doesn't have any solid pieces.

some people also like to add a small piece of lime pickle (lunu dehi) when making this sauce. I usually omit this. You can add if you like the taste.

Add the blended mixture to a large clay pot or to a Dutch oven. Also, add ground mustard seeds and dark brown sugar. Mix and taste. Add the rest of the vinegar and salt, little by little, to balance the sweetness of the mixture. If the sauce is too sweet, add a little vinegar; if you got it too vinegary, add a little bit of brown sugar. 

Bring the sauce to a simmer or until it bubbles slowly on the surface. Turn off the heat and let it cool down for about 5 - 10 minutes.

Some people like to skip the cooking part and directly mix the vegetables with blended sauce. This way you can preserve the color of vegetables a little bit better. But heating the sauce makes the raw garlic and ginger flavor goes away and flavors meld better together. Either way is fine.

Mix carrots, shallots, banana peppers, green chilies and chopped dates with the sauce.

Let it cool down. Cover and let it sit overnight for the vegetables to soften and for flavors to develop. The next day you'd see that vegetables have oozed out more liquid and that your sauce has thinned out. This is totally fine. Give it a good mix before you serve. Store leftovers in a sterile jar. 
Notes
The shallots I buy here in the US are much bigger than the Asian Shallots in Sri Lanka. If you have Asian shallots which are roughly about 1 inch in length, then you don't have to cut them. If you're using larger shallots (3 inched long), cut them in to bite-size wedges or halves.
Sri Lankan Malay pickle, Malay pickle, Sri Lankan condiments, Sri Lankan recipes, Sri Lankan food, Sri Lankan pickle recipe, Sweet date pickle, Date sauce, Date chutney, Sweet d