Let me tell you about this amazing Creamy Chicken and Kale recipe. It's so delicious and super easy to make, perfect for those busy weeknights when you need a comforting meal without much fuss.
This recipe combines tender boneless chicken thighs with nutrient-packed flat-leaf kale, creating a delightful harmony of flavors. Each bite is a delightful balance of succulent chicken and the earthy goodness of kale. All coated in a luscious, creamy sauce. The cream adds a velvety texture and a touch of richness to the dish, elevating it to a whole new level of deliciousness.
The Best Dish for Weeknights
Preparing this dish is a breeze. With just a few simple steps, you'll have a wholesome dinner on the table in no time. Sauté the chicken thighs until golden and cooked through, then set them aside. In the same skillet, wilt the kale to perfection, infusing it with all those wonderful flavors. Finally, pour in the cream and let it gently simmer, creating a heavenly sauce that brings everything together. And then you add parmesan which elevates this dish to a whole another level.
The result is a dish that will impress your taste buds and keep you coming back for more. The sauce's creaminess beautifully complements the hearty chicken and the slightly bitter notes of kale. It's a flavor combination that is both comforting and satisfying.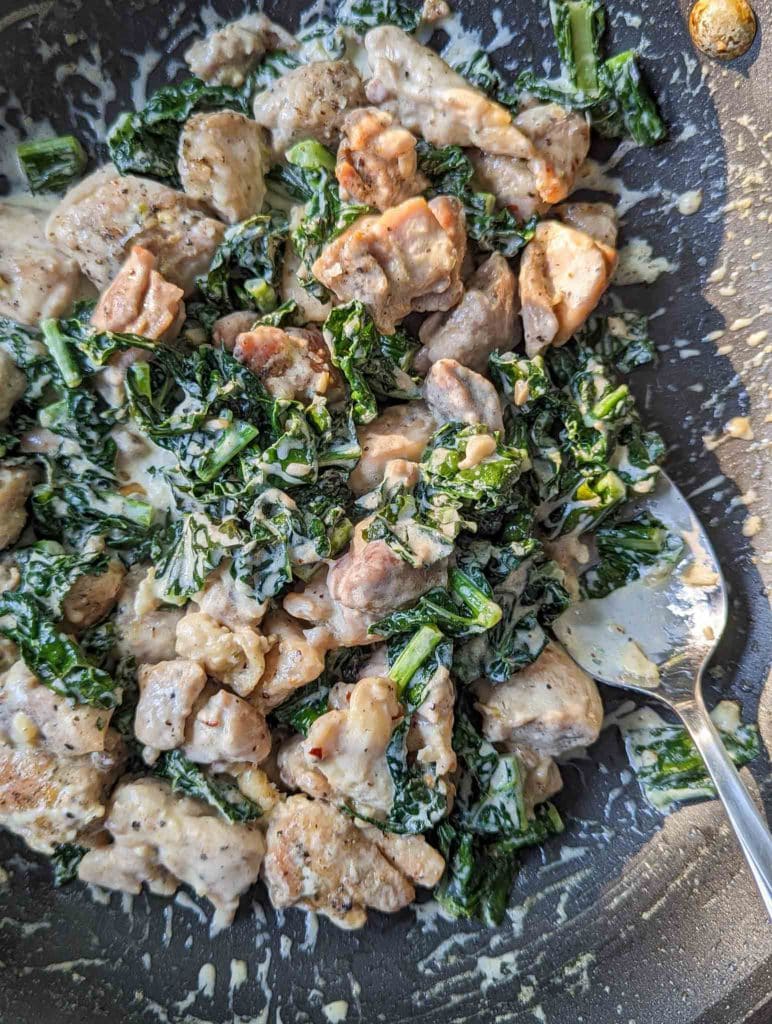 Side Dishes:
This Creamy Chicken and Kale skillet dish pairs well with so many side dishes. I love to serve this over Quinoa, Pasta, or Rice. You can also serve it with a slice of sourdough bread. Dinner rolls go so well with this dish too. Oh and not to forget baked Potatoes. YUM!!!
I really hope you give this super easy comforting dish a try. It's so easy to make and comes together in no time. If you're a fan of creamy chicken skillet recipes, check out this Creamy Jalapeno Chicken skillet recipe too.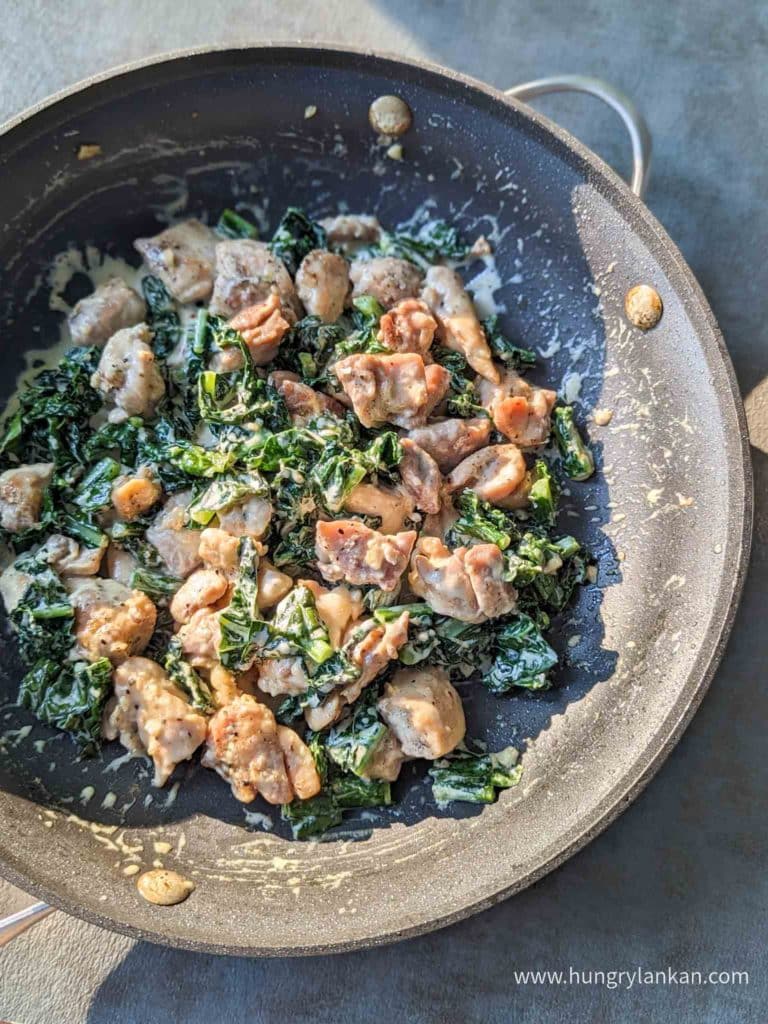 Creamy Chicken and Kale
Description
This amazing Creamy Chicken and Kale dish is so delicious and super easy to make, perfect for those busy weeknights when you need a comforting meal.
Instructions
Season the chicken thigh pieces with salt and pepper.

Heat the olive oil in a large skillet over medium heat. Add the chicken thigh pieces and cook until they are browned and cooked through. Remove the chicken from the skillet and set it aside.

In the same skillet, add the minced garlic and sauté for about 1 minute until fragrant. (Add a little bit of oil if the pan is dry)

Add the chopped kale to the skillet and cook for about 3 - 5 minutes until it wilts and becomes tender.

Reduce the heat to low and pour in the heavy cream. Stir well and simmer for a few minutes until the cream starts to thicken slightly. (You can add more cream if you like the dish creamier)

Add the cooked chicken back into the skillet with the creamy kale. 

Stir in the grated Parmesan cheese and mix until everything is well combined and coated with the creamy sauce. If desired, sprinkle red pepper flakes on top for a bit of heat. Taste and season with salt and pepper.

Continue cooking for an additional 2-3 minutes, stirring occasionally, until the chicken is heated through and the flavors meld together.

Remove from heat and serve the creamy chicken and kale hot. You can garnish it with additional grated Parmesan cheese, if desired.
Chicken and Kale, Chicken with Kale, Easy weeknight chicken recipe, Healthy Chicken recipe with greens, Chicken skillet one pot recipe, Creamy chicken and Kale recipe, Easy chicken recipes, Easy weeknight chicken recipe