My vegan creamy cauliflower curry is a healthy, very comforting dish that you can easily make for lunches and weeknight meals.
I love making food. Trying new recipes is my favorite hobby. But on weekday lunches and weeknights, trying out complicated recipes is the last this I want to do. At the same time, I want to feed my family a healthy meal too. And it has to be something comforting that everyone loves. If you're like me, then you'd love this recipe too.
This is how my mom makes creamy cauliflower curry. My mom is a Sri Lankan (so am I) and she makes a wonderful creamy cauliflower curry for our lunches. The only difference is, that she doesn't roast cauliflower before adding it to the curry. But she pairs it up with either Sri Lankan chicken curry or pork curry and many more Sri Lanka side dishes. So those meals were never boring.
I do a few modifications to my mom's "Cauliflower Kiri Hodi" (kiri = milk, hodi = curry) recipe and serve it with white rice. I pair it up with Sri Lankan coconut sambol for a spicy kick or if time permits I make a whole Sri Lankan lunch spread to make it a little special. But white rice would be just enough for a wonderfully comforting meal.
Can I make it without roasting cauliflower?
You absolutely can. In fact, my mom never roasted cauliflower when she cooks this curry. But I find that roasting intensifies the cauliflower flavor. Adds sweetness to the curry which balances out nicely with the lime juice we add at the end. That's why I air-fry them for a few minutes. You can roast them in the oven too.
Which curry powder to use?
I use Sri Lankan unroasted curry powder for this recipe and it's the one I recommend. The main ingredients are coriander, cumin, and fennel. But you can substitute it with a mild curry powder you can get from local or Asian grocery stores. Madras curry powder works too. If you can't find any curry powder use 1 tsp of coriander powder and 1/4 tsp of cumin powder. It would taste different than what I make, but it still tastes good.
Which coconut milk to use?
I use canned coconut milk and I recommend either Aroy-D or Chaokoh brands. Aroy-D cartons are great too (I'll add the links below). You can use powdered coconut milk, dissolved in water. Or the traditional method, which is freshly squeezed coconut milk. If you use fresh coconut milk, keep the heat low and stir the curry to keep the heat low and distributed. Fresh coconut milk has a higher chance of getting curdled.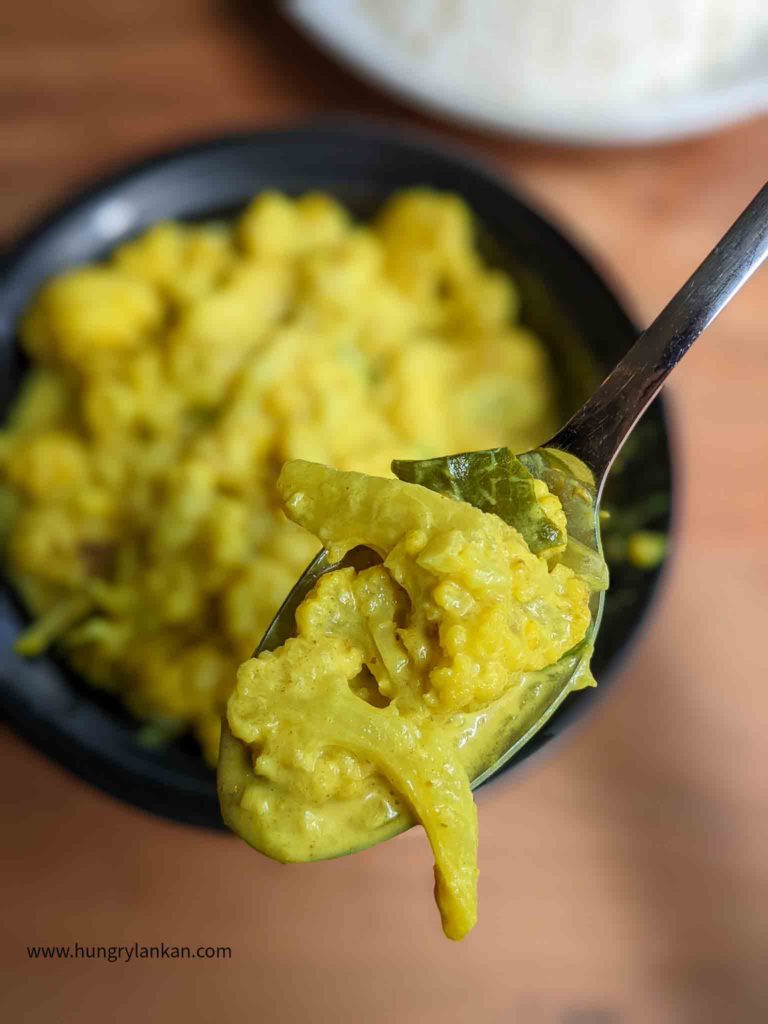 What to serve with?
Great with Sri Lankan yellow rice, white rice, or cumin rice. For a Sri Lankan lunch-style meal, pair it up with spicy pan-fried chicken or beef fry. And a salad like fresh coconut sambol, arugula salad, or fried eggplant salad. For a comforting quick meal, I just serve it with white rice.
Products I use (Amazon affiliate links)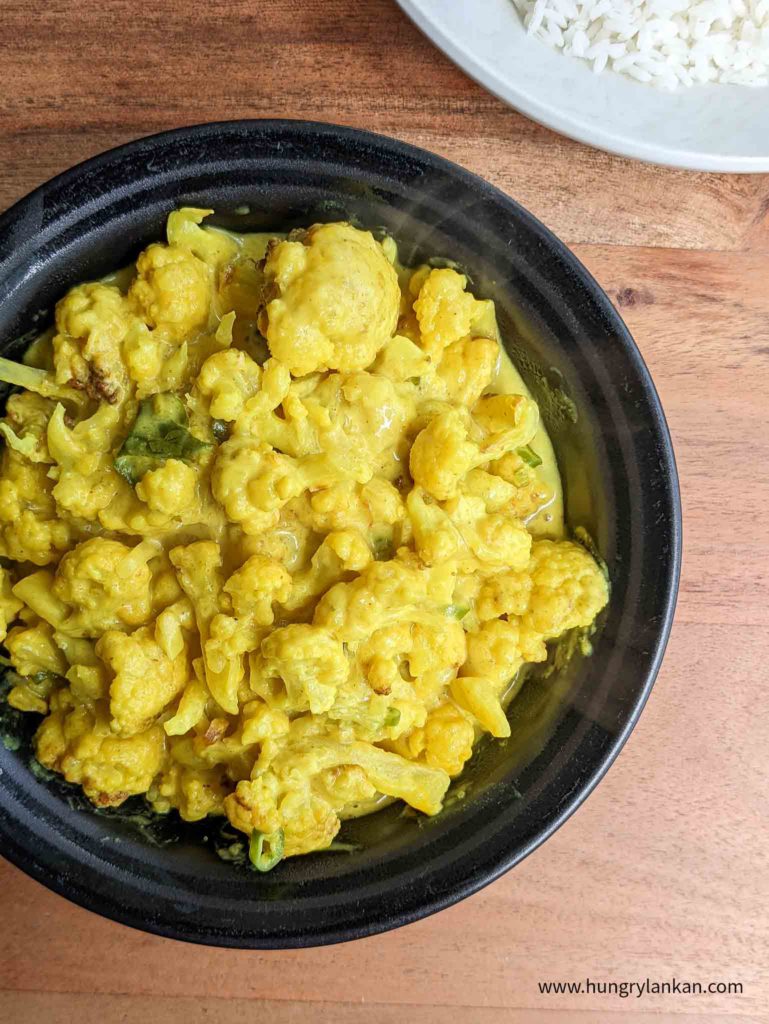 Creamy Cauliflower Curry
Description
My vegan creamy cauliflower curry is a healthy, very comforting dish that you can easily make for lunches and weeknight meals.
To roast cauliflower
To make the curry
Instructions
Mix cauliflower florets with salt, turmeric powder, and oil. (you can do this in a separate bowl or directly in the air-fryer basket)

Air-fry for 9 - 12 minutes on 375F until the edges become brown. Mix halfway through. *

Add cauliflower and all the other ingredients except lime wedge to a pot. 

Mix well first and then turn on the heat and set to medium. Cook for about 5 minutes until the curry starts to simmer. 

Then reduce the heat to medium-low, cover the pot and cook for another 8 - 10 minutes or until curry is thicker, and cauliflower is fully cooked. Adjust salt if needed.

Turn off the heat and let the curry cool down for about two minutes. And then add lime juice and mix gently.
Notes
I use Sri Lankan unroasted curry powder. Any mild curry powder would work for the recipe. 
if you're using a taller pot then reduce the amount of water or coconut milk you use. You only need liquid to submerge cauliflower florets. 
You can skip the roasting/air-frying process and make the curry with raw cauliflower. Increase the cooking time accordingly.