These easy sausage buns/rolls are made using my favorite fool-proof enriched dough recipe. Try this out for soft, bakery-style sausage buns.
Sausage buns are one of my childhood favorites. In Sri Lanka, there are certain food stalls that we call short-eat restaurants. They're sort of like cafes. Short-eats are more like little refreshments, just as the name suggests. In these short-eat restaurants, you can find little bakery goods like egg buns, fish buns, sausage buns, tea buns. And then you can find fried and baked snacks like pastries, cutlets, fish rolls, egg rolls. They also have sweet options like cakes and tea, coffee, and refrigerated flavored milk.
Growing up, I was a big fan of these short eats. And my mom always takes us to a short eat restaurant when we go out to have a little something before we head back home. And I always get overwhelmed with what to choose between all the yummilicious little short-eats they have. Even though the triangle egg rolls are my all-time favorite, I also loved having a sausage bun once in a while. A pillowy bun with a delicious sausage in the middle. I don't know how someone cannot like them.
Sausage buns are very much similar to American hot dogs. But in Sri Lanka, we got a bigger and a different hot dog sausage with hot dog buns. So they were much like a meal of its own. I'd call these sausage buns the lighter version of American hot dogs. Much smaller. Yet tastes the same and cheaper.
The dough:
The dough for these easy sausage buns/rolls recipe is very easy to make. For this one, I use one of my favorite enriched dough recipes that I use for many bun varieties with fillings. I add an egg, butter, and milk for a richer flavor and softer texture. If you're looking for an eggless recipe, then check out my curry buns recipe and use that dough instead.
Make sure to use warm milk and room temp egg and slightly melted butter as a colder dough can slow down the yeast activity. Also, please note that I use instant dry yeast here in the recipe. If what you have is active dry yeast, make sure you add that to your warm milk and sugar mixture, activate the yeast (mix yeast to the lukewarm milk and sugar and let it sit for about 10 mins until it becomes frothy) before you add other ingredients.
Always keep the dough covered as it can dry out pretty quickly. Take the dough out, only when you work with it. In all the other stages, you have to keep it covered with a plastic wrap.
I knead the dough in the stand mixer. But you can easily knead the dough by hand. Keep reading for hand kneading instructions.
Hand kneading instructions:
heat the milk until it's lukewarm and add that to a large bowl.
Then add instant dry yeast (If you're using active dry yeast, let it sit there for about 10 mins in the milk). Also add softened butter, egg, sugar. Mix everything using a spoon.
Then add your salt and 3/4 of your flour to the bowl. Mix everything using a large spoon. Wooden spoons work great for this. It would make a shaggy sticky dough.
Then generously dust your working bench with flour.
Add the dough to the flour and knead it adding flour a little by little at a time until it forms a non-sticky soft dough for about 15-20mins. The time depends on your kneading skills. What you're looking for is a soft, pliable, stretchy dough that doesn't have any flour lumps. Knead until you get that.
Add the little bit of oil to the bowl and transfer the dough back to the bowl. Apply a few drops of oil on top of the bowl too. Then cover with a plastic wrap. The rest of the steps are the same as I've given below
With this amount of dough, you can make 12 medium size sausage buns. The hot dogs/ sausages I use are approx 5 inches long.
If you try my Easy Sausage Buns/Rolls recipe, please leave me a comment and give me your feedback. Really appreciate it.
Affiliate links for the products I use: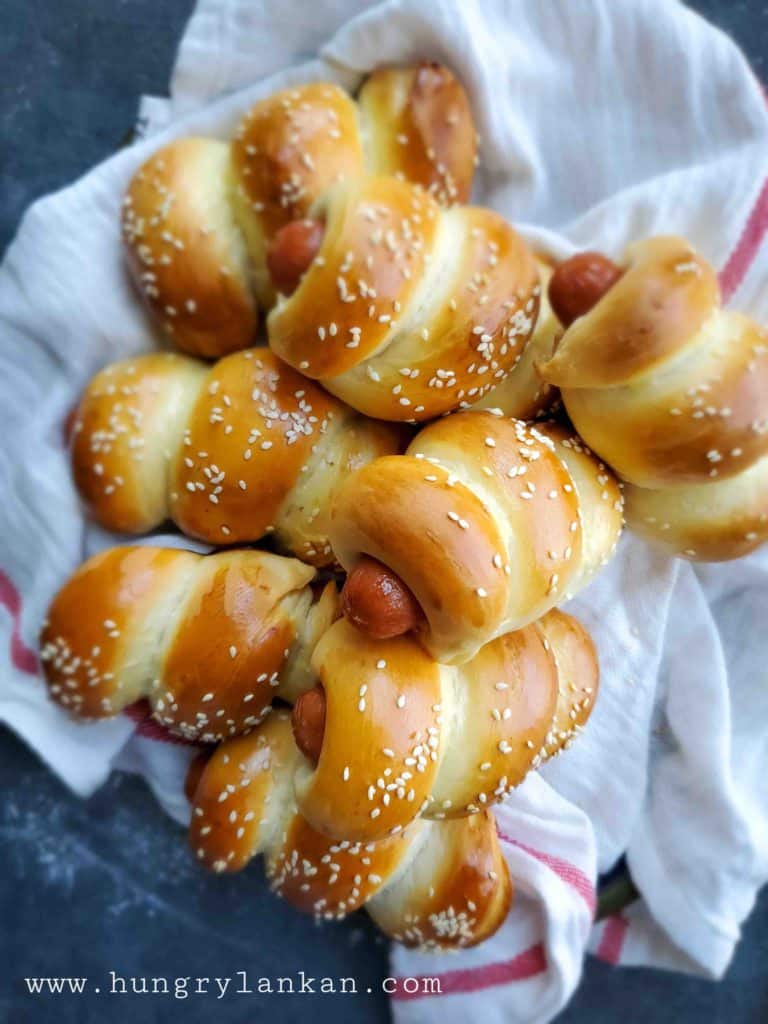 Easy Sausage Buns/Rolls
Description
These easy sausage buns/rolls are made using my favorite fool-proof enriched dough recipe. Try this out for soft, bakery-style sausage buns.
Instructions
Warm your milk until it's lukewarm. You should be able to dip your finger into the milk comfortably. Then add the milk to the bowl of your stand mixer. Also, add your instant dry yeast. Let it sit for a few mins. It should start to make foam right away. If not your yeast might be expired. Try again with some new yeast. Instant dry yeast can be substituted with active dry yeast, make sure to activate it in lukewarm milk.

Add your room temp egg, softened butter, and sugar. Mix with a spoon. And add four and salt.

Knead everything in the mixer for 10 mins with the dough hook attached. The dough should be lump-free, soft, pliable, and non-sticky. (if the dough is sticky, add a tsp of flour at a time and knead again until everything combines). Everything should be incorporated into one dough ball and there should be no loose flour left on the bowl ( hand kneading instructions are available in the description above ).

Make the dough into a rough ball, shaping with your hands. Apply a few drops of oil to the bowl. Put the dough back in. Apply 2 drops of oil to the surface of the dough to prevent it from drying out. cover with a plastic wrap.

Let the dough double in volume. This would take about 45min - 1hour depending on the temperature of your house.

When the dough has doubled in size, gently punch it down to remove the air.

Take the dough out and divide it into 12 equal size pieces. (approx 63g - 65g each).  Shape each dough piece into a small ball using your hands. Arrange them in order as shown in the photo. Keep them covered with a plastic wrap all the time. Only uncover when you shape them into balls. (Otherwise, the skin of the dough would dry out and make cracks). Then let them rest for 15mins. 

Meanwhile, wipe all the water from your sausages with a paper towel or a kitchen towel. It's hard to wrap the dough around the sausage with water present.

Take the first dough ball you make earlier. Roll it to a 12inch long strip using your both hands. The sausages I'm using here are approx 5inches long. 

Loosely wrap the dough strip around the sausage. Leave about 3/4inch of sausage from both ends without wrapping. It will cover when the dough puffs up. Make sure to pinch the ends of the strip to the dough part nearby. So they don't unfold when you put them into the oven

Put the wrapped sausage on a baking sheet lined with a baking paper or a silicone mat. Cover again with a plastic wrap. Repeat the process to all the dough balls. Loosely cover all the sausage buns with plastic wrap. Let them double in size. This time it would take less time to double in size than the earlier step (about 30- 45min). Also preheat the oven to 425F/ 215C.

Mix egg yolk and 1tsp milk together to make an egg wash. Then brush the proofed sausage buns with the egg wash.

Sprinkle some sesame seeds and bake for 12 - 15min or until golden brown in a 425F/ 215C preheated oven.

Let them cool down for about 20mins before serving. Serve with ketchup. 
Sri Lankan sausage buns, Bakery style buns, Enriched dough, Sausage buns, Sausage rolls, sausage buns, Sesame buns, Buns, Bakery buns, Soft buns, Sausage, Sausages