Devilled fish is a must-try Sri Lankan – Chinese fusion dish that is very popular and one of my favorite dishes of all time! The recipe belongs to my mom, who is well-known for making amazing devilled chicken and fish among family and friends.
The recipe has a few steps. one, you marinate the fish and then deep/shallow fry them. two, you have to make the sauce. and finally, you have to mix everything with vegetables and aromatics. It might sound complicated but trust me it's very easy to make.
The key to a good Sri Lankan devilled fish is a balanced sauce, good use of aromatics, and especially not overcooking fish and vegetables.
What kind of fish should I use?
My mom always uses either yellowfin tuna or skip jack tuna. The reason is tuna is a firm fish and doesn't fall apart when you cook it twice. first by deep frying and then stir-frying with the sauce. So I highly recommend choosing a Tuna variety for this dish. Better if you can get them skin on. So they don't flake apart.
The sauce
This sauce is very very simple and the ingredients I'm using can be found anywhere.
Corn starch: Corn starch helps to make the sauce thicker and glossy. When you mix corn starch with water, make sure to use room temp or cool water. The slurry will thicken up as it heats up.
Ketchup and chili sauce: add sweet and tangy flavors to the sauce. if you can't find chili sauce, replace it with more ketchup.
light or regular Soy sauce: adds the saltiness and some umami. Also makes the sauce look dark red. If you don't have it, just use salt instead. Please DO NOT use dark soy sauce, it will make the sauce look very dark and brown. And Sri Lankan fish devilled looks red or dark red which is iconic for the dish.
Sugar: to balance out the tanginess from ketchup and chili sauce. You can skip the sugar if you don't like to add sugar.
Which vegetables to use
Adding peppers (specifically Hungarian yellow wax/ banana peppers) and onions are a must for devilled chicken/ fish or any devilled dish. Many people add fresh tomatoes too. But if meal prepping or you're going to keep the dish in the fridge for a long time you can skip adding tomatoes as they can ooze out the liquid and make the sauce runny.
Banana or Hungarian yellow wax peppers can be hard to find in some countries. You can substitute that with bell peppers or anaheim peppers would be a good choice too.
If you'd like to load it up with more vegetables, you can also add big cuts of leaks or some sliced carrots. Please note that these are not traditionally used ingredients in any devilled fish recipes. But I add them sometimes when I make it for my family. Just wanted to show you that it can be customized to your needs.
What to serve with
Hands-down the best menu for Sri Lankan devilled fish is fried rice, chop suey, and chili paste.
I also love to serve it over stir-fried noodles.
Goes well with Sri Lankan yellow rice as well. I usually make creamy potato curry too when I make this yelow rice menu.
Products I use (amazon affiliate links)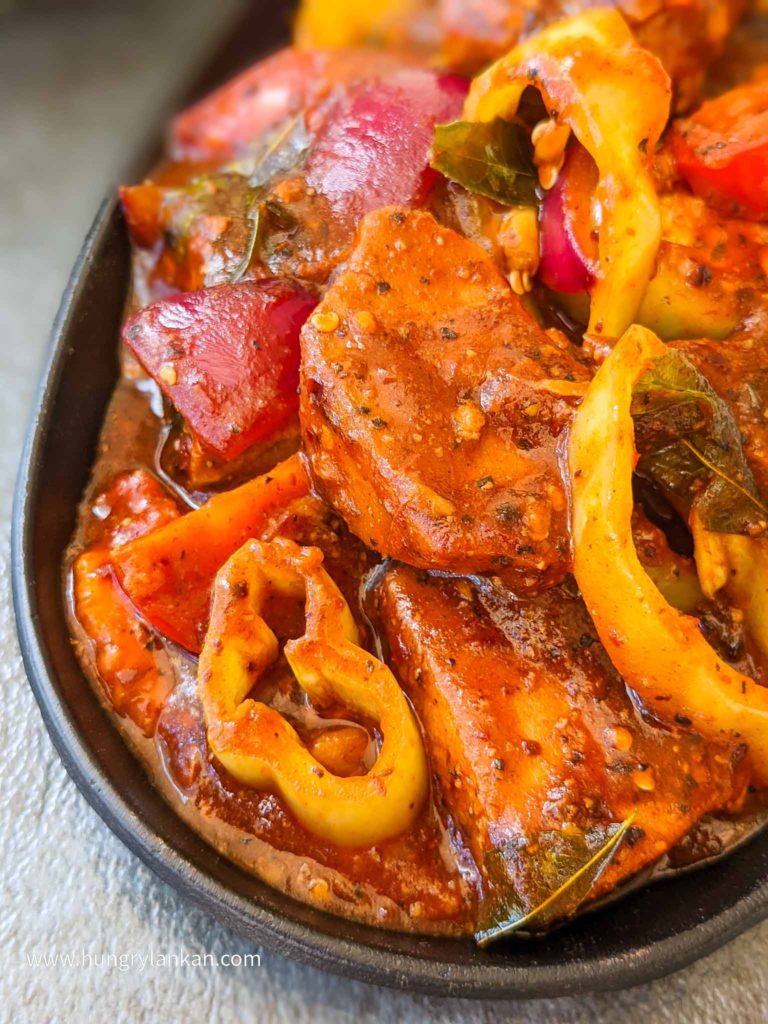 Sri Lankan Devilled Fish
Description
Devilled fish is a must-try Sri Lankan - Chinese fusion dish that is very popular and one of my favorite dishes of all time! It might look like a complicated recipe but trust me it's very easy. Just follow the steps. 
To marinate fish
For the sauce
Other
Instructions
Marinate and fry fish
Cut tuna into large chunks (about 2 inches long cuboids) 

Make the marinate with paprika or chili powder, black pepper, lime salt, and water. Add the fish pieces and mix to coat every piece with the marinade*. Be careful to do it gently as the fish pieces can break apart. Set it aside and let it marinate until you make the sauce and get the other ingredients ready. (about 10 - 15 mins)

Heat enough oil to deep fry into a deep skillet. Wait until the oil is hot. Gently add fish pieces to the oil, and fry them until the edges start to turn golden and the fish is all the way cooked through*. Transfer fish to a paper towel-lined plate.
Make the sauce (do it while fish is marinating)
Add cornstarch and water to a small bowl. mix. And then add all the rest of the sauce ingredients which are ketchup, chili sauce, soy sauce, sugar, and salt. Mix and keep it aside.
Making the devilled fish
Crush ginger and garlic in a mortar and pestle or chop them very finely.

Cut banana peppers into rounds. Cut onion into large triangular pieces or rounds, and tomato into wedges.

Heat a medium size wok or a saute pan. Add oil and let the oil heat up. Add cinnamon stick, ginger, garlic, curry leaves, and pandan leaves. Saute until the garlic starts to turn golden on the edges.

Add chili flakes, chili paste*, and black pepper. Saute for about 10 seconds or until chili flakes turn dark red. 

Add banana peppers and onions. Saute for another 10-15 seconds just mix it through. 

Then move everything to a side and add the sauce. Let the sauce heat up. When the sauce is heated up, mix it with the vegetables. 

Add fried fish pieces. Gently mix everything well to coat all the fish pieces with the sauce (make sure not to break your fish pieces.) Adjust salt if needed.

Add tomatoes. Mix very lightly. You can serve the dish at this point*. Or proceed to the next step if you like to have more gravy.

If you like more gravy:

Add 1/2 cup of water and mix. Let the gravy heat up and when it starts to turn thick, turn off the heat. It will get thicker as it cools down. Do not simmer too long as it can overcook fish and vegetables.
Notes
use gloves when you mix fish with the marinade to protect your skin from chilies.
do not fry fish until they are golden brown on all sides. Fish cooks very quickly and overcooked fish can turn very rubbery, dry, and chewy. You only need to cook it until they're done and just started to turn golden on the edges.
Sri Lankan Chinese chili paste ( we just call it chili paste and I highly doubt that you'd find this in china) can be hard to ingredient. Malaysian crispy prawn chili or anchovy chili is identical to Sri Lankan chili paste.
I usually serve it dry when I pair it with another curry like my creamy potato curry or red lentil curry.
Devilled fish, Sri Lankan food, Fish in tomato sauce, Fish recipe, Fish, Sri Lankan fish recipe, Sri Lankan food, Fish devilled, Tuna, Tuna recipe