This sweet, tangy, and spicy caramelized onion relish called "Seeni Sambol" is a beloved Sri Lankan condiment we serve with many dishes. It has the perfect balance of sweet and savory. Slow-cooking the sliced onions in oil makes them soft and jammy in texture. If you like caramelized onion, this my friend is like the 100 times elevated version of it. You definitely need to give this Sri Lankan Seeni sambol recipe a try!
Seeni sambol in Sri Lanka is a staple for road trips because it doesn't go bad very quickly. So whenever we go on trips my mom makes Seeni sambol and egg sandwiches for us to eat on the way. She also includes them in banana leaf-wrapped rice and curry packs she makes for our lunches. Seeni sambol is very flavorful, it can make any meal taste amazing. Now living in another country, I still carry on this tradition in my family. I have very fond memories that associate with this dish so I'm so excited to share this recipe with you.
Oh, by the way, my website got selected as one of the top 15 Sri Lankan food blogs by FeedSpot. Yay! So trust me when I say, you're in the right spot for Sri Lankan recipes. 🙂
Please read below to find out the common questions you might encounter as well as some tips I have for you.
Too much water accumulating in the pan?
Onions are 89% water. So whenever you cook onions it's going to ooze out a LOT of water. Now, this might be the biggest problem you'll face when you make Seeni sambol. Especially if you're going to cook with a lot of onions. There are a few things you can do to avoid this.
Use a large pan with a lot of surface area at the bottom. A wok or a large saute pan is ideal. So there will be enough area for the onions to cook and also water would evaporate quickly without accumulating.
Add salt when the onions are halfway cooked. Salt draws out water from the onions through osmosis. This isn't a problem if you're cooking an onion or two. But when you're cooking with a lot of onions like in this Seeni Sambol recipe, you'd see a lot of water coming out when you add salt to it. What I usually do is, cook onions first without salt. So it loses a lot of moisture by evaporation. Then I add salt when they are halfway cooked. It makes the onions sweat and lose more moisture. But it wouldn't make them too moist because it is already cooked.
If you still see a lot of water in the pan, crank up the heat and continuously saute onions until the pan dries out. But make sure to reduce the heat afterward. Seeni sambol should be cooked at low heat to get its jammy texture.
Too sour? Too sweet?
Finding the right balance between sour and sweet brings out the best in this Sri Lankan Seeni Sambol. You get the sourness from tamarind extract. The sweetness comes from the onions as well as the sugar you add later in the recipe. Sourness can be reduced by sweetness and vice versa. So if the dish tastes too sour to your taste then add a bit of sugar. If the dish is too sweet then add a little bit of tamarind extract and cook for a few minutes. I always add sugar at the latter part of the cooking so it's easier for me to get the right balance.
Spice it up!
Spices such as cinnamon, and cardamom add so much flavor and aroma to Seeni Sambol. I highly recommend adding whole spices as they are more potent than grounded spices. Make sure to remove the whole spices before you serve. It's not very pleasant when you bite into a cardamom pod while you eat.
Directly Add spices and aromatics to the cooking oil first. It helps them to release and dissolve their essential oils. Which makes the dish more aromatic and flavorful all throughout.
From where can I find these ingredients?
Many of the ingredients I use here can be found in many local grocery stores as well as in Amazon or other online stores.
But you might have a hard time finding Tamarind, curry leaves, and pandan leaves.
Curry leaves and tamarind is available in almost all Indian grocery stores. You can also order fresh curry leaves and seedless tamarind from some Amazon sellers as well. Pandan leaves are available in many South East Asian grocery stores. Especially in Vietnamese and Thai grocery stores. Check the frozen section as well.
Recipe Video
Serving Ideas for Seeni Sambol
Seeni Sambol goes so well with many Sri Lankan dishes. Here are a few of my favorite ways to serve it.
Seeni Sambol with bread. You can add boiled eggs for these as well.
Milk rice/Kiribath and Seeni Sambol. A classic menu that we make for every celebration. Especially for the new year.
With hoppers, string hoppers, coconut roti or Thati paan along with a chicken curry or a creamy potato curry.
You can also use this recipe to make Seeni sambol buns which is a popular Sri Lankan short eat/snack.
Seeni sambol and egg puff pastries are another one of my favorite snacks.
Oh btw, my website got listed as one of the top 15 Sri Lankan food blogs by FeedSpot.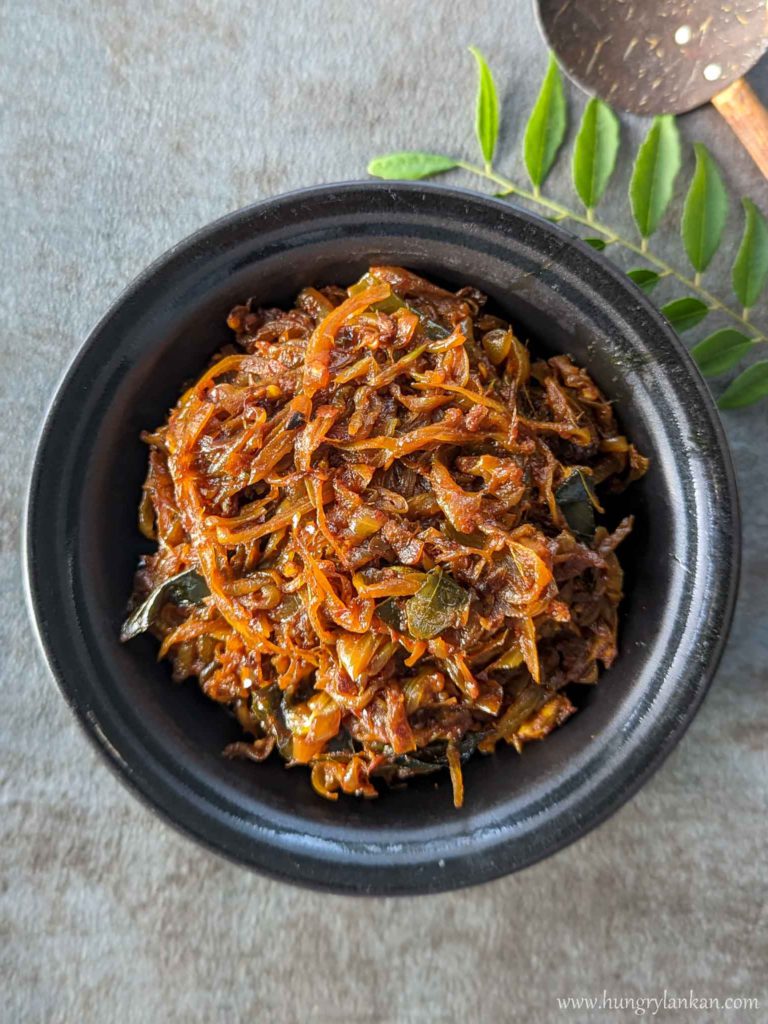 Sri Lankan Seeni Sambol
Description
Seeni Sambol is a sweet, tangy, and spicy caramelized onion relish served with many Sri Lankan dishes. It's Jammy in texture and has a perfect balance of sweet and savory. A must-try for sure!!
Instructions
Add tamarind and warm water into a small bowl. Set it aside to soak.

Thinly slice onions. Add them to a large mixing bowl. Add chili flakes, chili powder, and turmeric powder to the bowl. Mix well with onions.

Squeeze tamarind in warm water using your fingers to make it a thick saucy pulp. Discard any seeds and skin.

Heat a large saute pan or a wok and add oil to it. When the oil starts to heat up, add cinnamon sticks, cardamom, and cloves. Let them heat in oil for a few seconds. Then add curry leaves and pandan leaves. (Be careful. Curry leaves and pandan leaves splatter in oil. You can close the pan with a lid for a few seconds for this)

Add onions and saute until onions become wilted. Then add salt, mix, and cook until there's no moisture left in the pan. Mix from time to time to avoid the bottom layer of onions from burning.

Add tamarind pulp. Mix well with onions. Cook on medium-low heat, uncovered until onions are jammy in texture and some onion slices are caramelized.

Add sugar. Start with a little bit and increase until the onions are not sour in taste. Sourness should be balanced with sweetness. If the Seeni sambol is too sour, add more sugar. If it's too sweet, add a little bit of tamarind. Also adjust salt if needed.

Saute and cook until the onions are darker in color and jammy in texture. You can stop the cooking process at any point you like. More moisture you remove from the onions more time it'd last without going bad.

Let the Seeni Sambol cool completely before storing it. Check the description for serving ideas.
Notes
Maldive fish chips or as we call "Umbalakada" is another common ingredient that some people use when making Seeni Sambol. I leave it out here as I wanted to make this vegan-friendly. If you have it on hand, you can use it to add some umaminess to the dish.
I use yellow onions. They turn sweet and jammy when they are cooked. You can use any large onions you like.
Sri Lankan Seeni Sambol, Sri Lankan new year food, Spicy caramelized onion, Seeni Sambola recipe, Sri Lankan condiments, Vegan relish, Onion recipes, Slow cooked onions, Fried onions, Onion chutney