This super easy, vegan air-fried eggplant salad is an adaptation of my mom's Sri Lankan fried eggplant salad recipe that I love so much. You'd surprise how nicely the flavors match together.
The best thing about this dish is that the eggplants are air-fried. Even though deep-frying makes them crispier, for this salad recipe, you don't have to have those extra crispy eggplants. Believe me, I have had this eggplant salad so many times and I hardly notice any difference between deep-fried version and air-fried version. So why consume so much oil when you can make it healthier.
We, Sri Lankans, serve this salad with rice and other curries. But if you just want to have the salad then add some greens like lettuce to the salad. But make sure you cut them somewhat small as all the other ingredients in this air-fried eggplant salad are cut into small pieces.
If you're not going to have the salad right away, then make sure not to add salt until the last minute. But you can mix all the other ingredients together. And then later add salt when you're ready to serve.
Notes on Air-frying eggplants:
When you fry eggplants in the air fryer, there are a few things that you need to consider. First, don't cut the eggplants into too thin or too thick pieces. The air fryer is like a mini oven that blows air. If you cut them very thinly, then they're going to blow around when they're frying. Too thick, they're not going to be nice in the salad. The properly fried eggplant pieces should be golden brown on the outside tender in the middle.
This is very important. Do not overcrowd the air-fryer pan and always arrange eggplant pieces into one layer. Otherwise, they're going to get steamed, not fried.
You have to add a bit of oil when you fry the eggplant pieces and mix really well to coat each and every piece with oil.
You can salt the eggplant pieces before you fry them too. But I like to hold back the salt because then it's easier for me to control the amount of salt I add to the salad.
The air fryer temp can be different from one air-fryer to another depending on the brand. Keep an eye on your eggplants. They go light brown to dark brown very quickly. Also keep in mind, when you fry the eggplants, the first batch takes relatively longer to fry than the seconds batch. So always reduce the time for the second batch.
use long Asian eggplants if possible. The round one has more meat inside and they don't fry very well and tend to get mushy in the air fryer.
Serving options:
I like to serve this with Sri Lankan yellow rice, Chicken curry, and red lentil curry.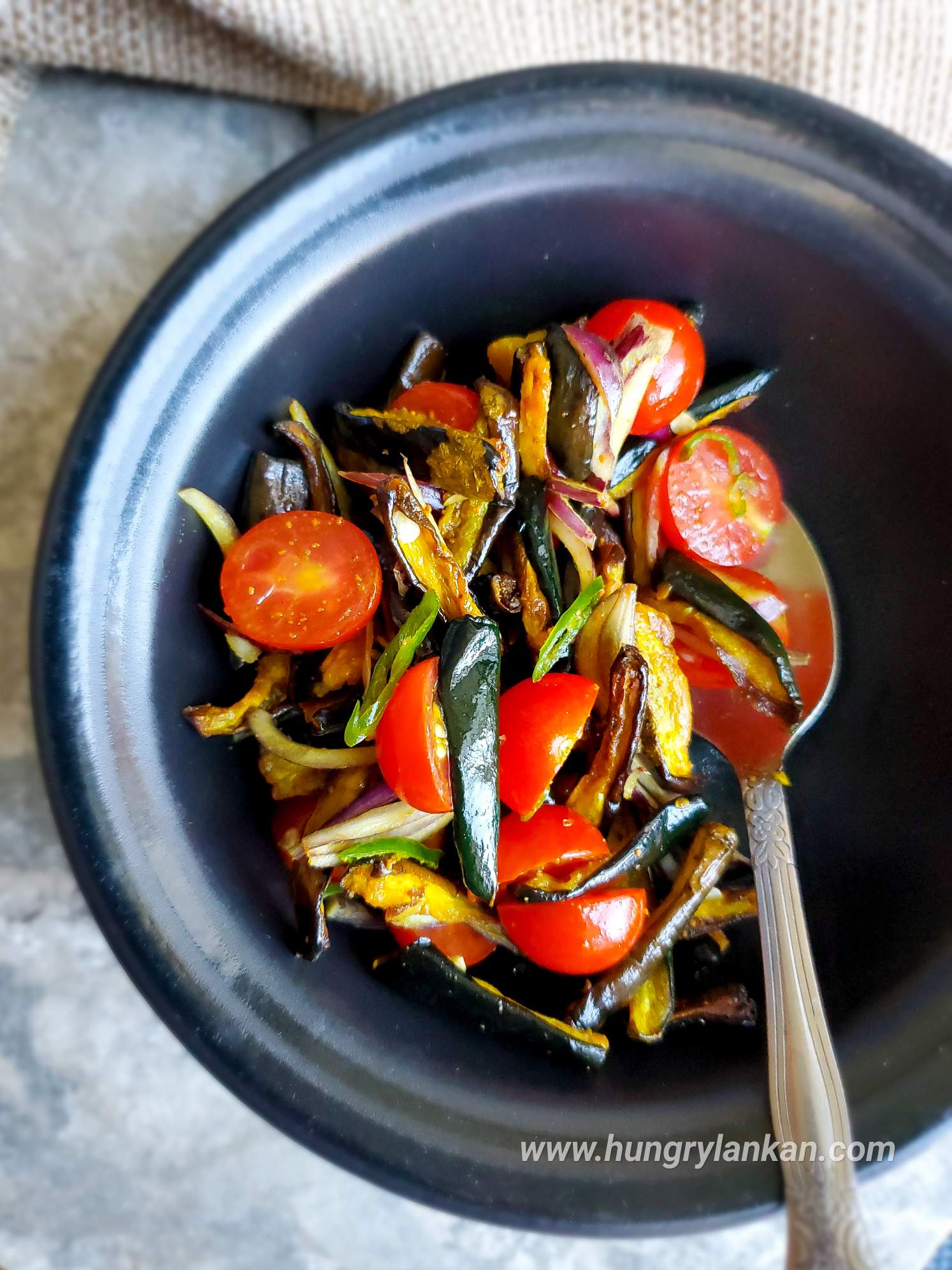 Air-fried eggplant salad
Description
This super easy, vegan air-fried eggplant salad is an adaptation of my mom's Sri Lankan fried eggplant salad recipe that I love so much. A versatile recipe that goes well with anything.
To fry eggplants
To make the salad
Instructions
Cut eggplants into long strips. About 1 cm thick. Use long Asian eggplants for this (not the big Mediterranean eggplants)

Put all the eggplants into a bowl, add turmeric, some oil about 2 tsp and mix well so that each and every piece gets covered with oil. Add more or less according to the amount of eggplant you use. The only requirement here is to coat all the eggplant pieces with a very thin layer of oil. Turmeric is totally optional. If you want you can add salt too. But I like to add salt at the end. That way it's easier to can control the saltiness of the final salad.

Put them into the air fryer basket and arrange them to a single layer. You may have to fry them for few batches depending on the size of the basket and the amount of eggplants you have. Do not overcrowd. Fry them on 375 F for 4 - 5 mins. Take the basket out. Shake and fry for 2 to 4 mins more. This time may vary depending on the air fryer you use.

When the eggplants are fried, transfer them to a bowl, add everything else, and mix well. If you feel like it needs more sourness, add more lime juice. Adjust salt and pepper however you like.
vegan, air fryer, airfried, natu, egg plant, eggplant, salad, sri lankan, wambatu, wambotu