My favorite way of making Sri Lankan dry sour fish aka Fish Ambul Thiyal. A fool-proof recipe to get the best-tasting fish Ambul Thiyal with minimal effort.
Ambul Thiyal is a traditional way of preserving fish that originated in the southern part of Sri Lanka. A very versatile dish that every Sri Lankan loves. The basic recipe only needs Garcinia Cambogia, black pepper, and salt. But over time, people added their own little twists and now there are so many variations of Ambul Thiyal.  The one I'm giving you is the way I make that best suits me.
Few Tips:
Use a clay pot or a cast iron pan. If you don't have both, use any heavy bottom pot you have, that takes longer to heat and cool down.
Definitely cook on low heat.
Some Garcinia cambogia/ Goraka pieces are too sour than the others. So adjust the amount of Garcinia paste you're going to use to your taste.
If the Ambul Thiyal paste is getting thicker while you coat the fish pieces with it, add a bit of water to thin it out.
Fish pieces ooze out a lot of liquid. Do taste this liquid to decide if you need to add more salt.
Let the fish pieces cool down completely in the pot before you store them
Ingredients:
For my recipe, I use a few aromatics: Ceylon cinnamon pieces, curry leaves, and cardamom. All three add a really nice aroma to the fish pieces.
For some heat, I use a little bit of red chili powder apart from black peppercorns. This is totally optional.
Also, use a bit of garlic powder for the flavor. some people add crushed fresh garlic too. But I find using garlic powder is easier and fresh garlic makes it harder to keep Fish Ambul Thiyal longer.
Garcinia Cambogia, black peppercorns are a must in this recipe. What I use is readymade garcinia cambogia paste/Goraka paste I got from Sri Lanka. But I know this might not be available for you, especially if you're living abroad. Then this is what you have to do. Take about a cup of whole garcinia Cambogia and soak them overnight. Then in the morning, drain the water and grind it into a fine paste. There you have homemade Garcinia Cambogia.
Use whole black peppercorns and grind them at the time you make them. And don't make it into a fine powder. What we're looking for is a somewhat coarse powder.
How to balance the flavors:
A good Sri Lankan fish Ambul Thiyal has a good balance of flavors between sour and salt. The best way to achieve this is to taste the Ambul Thiyal paste before you use it to cover fish pieces. When you taste, if it tastes too sour, then you can add a bit of water to dilute the paste and also add salt to balance it out.
If you feel like you want more black pepper flavor, then add black peppers. or chili powder for heat.
Always add whatever the amount you prefer but make sure you balance it out. It's totally up to you.
Serving options:
I really like to have Sri Lankan Fish Ambul Thiyal with rice and Coconut Sambol. Another one I really like is, crush them into pieces, and then use it as a sandwich filling with some fresh ingredients.
Special note:
If you use a clay pot to make these Ambul Thiyal fish, then do not forget to make my Ambul Thiyal fish curry that uses the same pot without washing to make a creamy curry. Those small roasted fish pieces and fish infused curry leaves makes the best creamy coconut fish curry ever.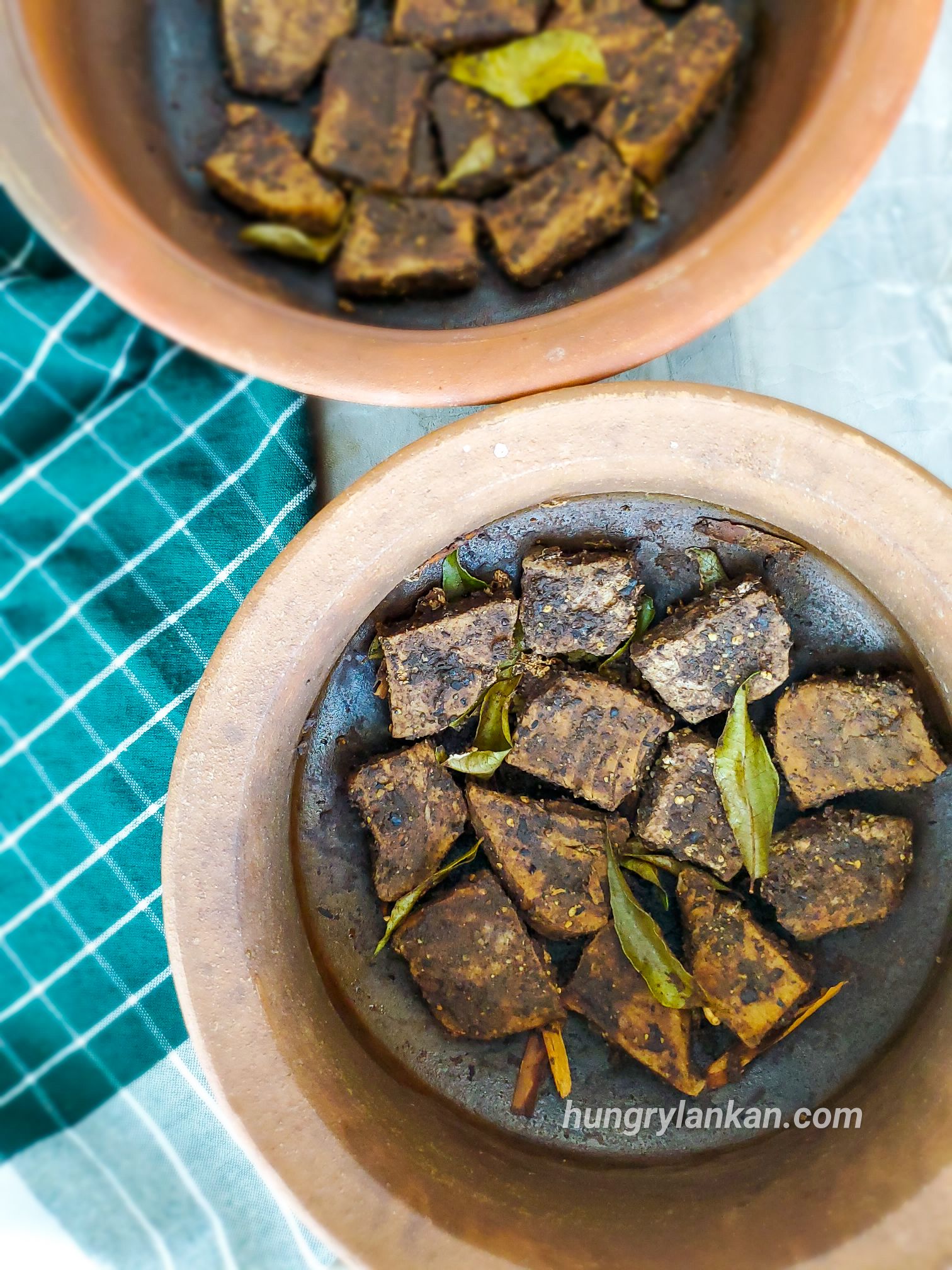 Sri Lankan Fish Ambul Thiyal
Description
My favorite way of making Sri Lankan dry sour fish aka Fish Ambul Thiyal. A fool-proof recipe to get the best-tasting fish Ambul Thiyal with minimal effort.
to make the ambul thiyal paste
Other ingredients
Instructions
Mix Garcinia Cambogia, black pepper, salt, chili powder and garlic powder. Add half a cup of water and make it to a thick batter-like paste. You might need to add or reduce the amount of water you have to add to get the right consistency.

Cut the tuna pieces into somewhat thin and flat pieces. I like my fish pieces a bit smaller, so mine are about 3 inches wide and 1 inch thick.

Now apply a thin coating of oil to your clay pot. (if you don't have a clay pot use any other heavy bottom skillet that takes longer to cool down). This makes sure that pieces aren't going to stick to the pot. And also it roasts the fish pieces a little bit, which adds a nice roasted flavor.

Then dip one piece into the Ambul Thiyal batter and cover it very well with the Ambul Thiyal paste. Now place it in the clay pot. wider side down.

Do the same with all the pieces, one at a time and, arrange then into one layer. Every fish piece has to touch the bottom. If one pan is not enough to arrange all the pieces, then use another pan. Do not stack the fish pieces. For 1.5lb fish, you probably would need to use two pots/pans.

Now if there's any Ambul Thiyal paste left, you can spread it over fish pieces. Add some curry leaves and Ceylon cinnamon pieces. (Ceylon cinnamon comes as a roll of few cinnamon barks. Break it and use it)

Cover and cook on very low heat until the fish pieces oozes out water and they're mostly cooked. At this point, you can taste the liquid and decide if you want to add any more salt. I like to turn all the pieces upside down. You can totally skip this process if you want. Carefully lift each piece using a fork or spoon and turn them, one piece at a time.

Reduce the heat to the lowest setting, and cook until all the water is evaporated. Let them completely cool down in the pot before you store it. There should be no moisture left when it cools down. The low moisture helps to keep fish Ambul Thiyal pieces longer without going bad.
ambul thiyal, ambul tiyal, fish, fish curry, malu, sour fish, sri lankan, sri lanka