Sri Lankan eggplant Moju aka Batu Moju is a delicious sweet and savory eggplant dish that you should definitely make for your next rice and curry festive menu. This dried version of classic eggplant Moju is packed with flavor. Really good to make ahead of time and it can last a really long time without going bad.
I have a few different Sri Lankan Eggplant moju recipes that I really love. And this is one of my favorites that I learned not too long ago, while I visited Sri Lanka back in January 2020. My Sister-in-law's helper Swarna made this superb dry moju for a road trip we did to Yala Sri Lanka. Getting the recipe from her is the first thing I did when I met her again.
Well, the recipe I learned from Swarna didn't have specific quantities as many Sri Lankans cook by the senses not by the books. I've been making this Batu moju/Eggplant so many times ever since I came back home to get the exact flavors I had in mind. And it took me almost a year to make it to this level that I'm satisfied enough to add to the blog.
I love how every piece of eggplant is a flavor bomb. But what I love the most about this moju recipe is I can make a big batch at once and it can last a really long time without going bad. So whenever I'm going to have guests over, I can make this dish a week or two ago and put it in the fridge. If you're a busy person, you can make this moju in your weekend and enjoy throughout the week.
Frying eggplants (important)
When you cut the eggplant pieces, make sure you cut them into very thin (about 2 mm thick) half-circle pieces. Thin pieces crisp up quickly and don't retain moisture as thick-cut pieces.
Sliced eggplant pieces turn brown as they oxidize when in contact with air. Don't cut all the eggplants at once. Cut them in small batches as you fry them.
Make sure your oil is well heated. To check the temperature, drop one piece of eggplant into the oil. It should sizzle and pop right back up into the surface of the oil.
Do not overcrowd the pan. If you add too many eggplants, the oil temperature drops drastically. And it would take the oil a long time to heat back up to the right temp. Resulting in oily, soggy eggplant pieces. Only add a little at a time. And they would crisp up really quickly.
Turn your eggplants while frying so they get evenly brown and crispy.
When the eggplants start to turn light brown, keep an eye on them. They turn dark brown really quickly. Don't let them burn.
Lay the fried eggplants on a paper towel in a single layer. So the steam can escape. And it would keep the eggplant slices crispy.
Get the sweet and sour flavors balanced
As with every eggplant moju recipes, the key for a good moju is getting the flavors balanced between sweet and sour. Too much vinegar makes the dish tastes sour while too much sugar would diminish the sour flavors and make the dish too sweet. But the good thing is you can adjust these flavors even after you make the dish. if it's too sour, then balance with sugar and if it's too sweet then you can balance it with vinegar. You can also adjust salt at the end while the dish is still hot.
Maldive fish flakes for this eggplant moju is crucial. It adds a nice umami touch to the dish. And also be generous with the amount of curry leaves you put in. They also add nice flavor and aroma.
Serving suggestions:
This recipe makes about two cups of eggplant moju. Which is enough for 6 – 8 people.
My favorite menu to go with Eggplant moju is Yellow rice, Pan-fried spicy chicken, Red lentil curry with coconut milk, simple lettuce salad, and Sri Lankan fish cutlets.
Affiliate links for products and ingredients I use in the recipe: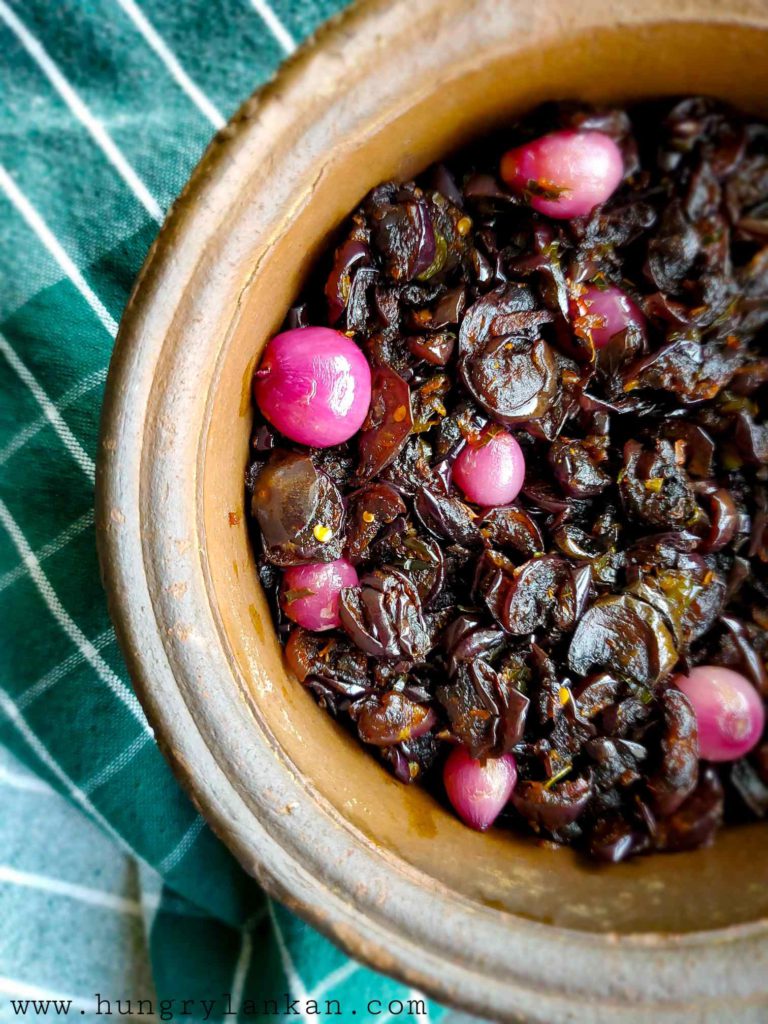 Sri Lankan Eggplant Moju
Description
An easy way of making Sri Lankan sweet and sour Eggplant moju, the dry version.
Instructions
Fry eggplants and pearl onions
Cut about 500g/ 1lb eggplants into thin half-circles (about 2mm thick).

Mix with a bit of turmeric powder as you cut them.

Heat enough oil for deep frying and fry them in small batches until they are golden and crispy. (please read the description for more info and tips). Lay them in one layer on a paper towel to remove excess oil. (Fried eggplants were weighed about 150g)

Also oil-blanch your shallots. Means put the shallots into your heated oil and leave it for about 10 seconds and take them out immediately before they turn brown. The color of the Asian shallots/pearl onions would become a little pale.
Making the Moju
Heat about 1tbsp oil in a pan. Then add your onions, chilies, and curry leaves. Fry the onions until they are golden. 

Lower the heat. Then add a generous amount of Maldive fish flakes and chili flakes. Mix with the onions and fry for a few seconds. 

Move everything to a side of the pan and add ketchup, white vinegar sugar, and salt (adjust as per your taste).

Mix ketchup, vinegar, sugar, salt and wait till the mixture heats up.

Mix everything in the pan lightly together. Don't let the mixture dry out before you add eggplants.

Immediately add fried eggplants, and shallots (you can also add oil-blanched green chilies).

Mix with the mixture well together and cook for about a minute while stirring on low heat.

Do a taste test and feel free to add sugar and salt if needed while the moju is still warm. The dish will taste better the next day. 
Eggplant moju, Batu moju, Sri Lankan eggplant dish, Sri Lankan festive food, Sri Lankan party food, Sri Lankan eggplant moju, Moju, Brinjal Moju, Brinjal recipe, Eggplant recipe, wambatu, wambatu moju