Parippu or Sri Lankan Red lentil curry is a staple in every household and undoubtedly the most popular dish in Sri Lanka. We have this curry multiple times a week with different menus and believe me when I say, I can make this curry with my eyes closed now. That's how frequently I make Parippu at my house.
I already have two different blog posts on red lentil curry. One with three different ways to make red lentil curry and then another one with spicy red lentil curry. But over time with the questions I get, I reckon I should do a separate post for my creamy red lentil curry with more info and more photos and tips so anyone who has never even tasted lentils can make the curry without going wrong.
Soak your lentils:
You'd probably think these lentils are too small and they would cook much quicker so why would I soak them. But trust me soaking lentils makes a huge difference in cooking and also in texture. I usually soak mine for about 20 – 30 minutes. It makes them plump up and cooks faster and evenly. You wouldn't find half-cooked lentils here are there.
More tips you need:
Cut the onions and garlic finely. They are going to disintegrate into the curry and add so much flavor.
Cook lentils in very low heat and covered with a lid until they are cooked. This is another cause why some people get unevenly cooked lentils and get foam over.
Do not stir the curry all the time. Once you add everything to the pot, mix once, cover, let it cook alone in low heat. Lentils are small and can break easily. You can end up with a huge gummy paste.
Get a somewhat deeper pot. More like rice, when they boil, they get bigger.
If you didn't wash the lentils properly, or if you put it on high heat, lentils foam over and spill. So wash your red lentils properly to remove all the starch. If you see foam coming up, remove the lid, reduce the heat, wait till they're gone, and put the lid back on. And continue cooking on low heat.
Coconut milk curdles with high heat. So when you add coconut milk, lower the heat and keep stirring gently to avoid that.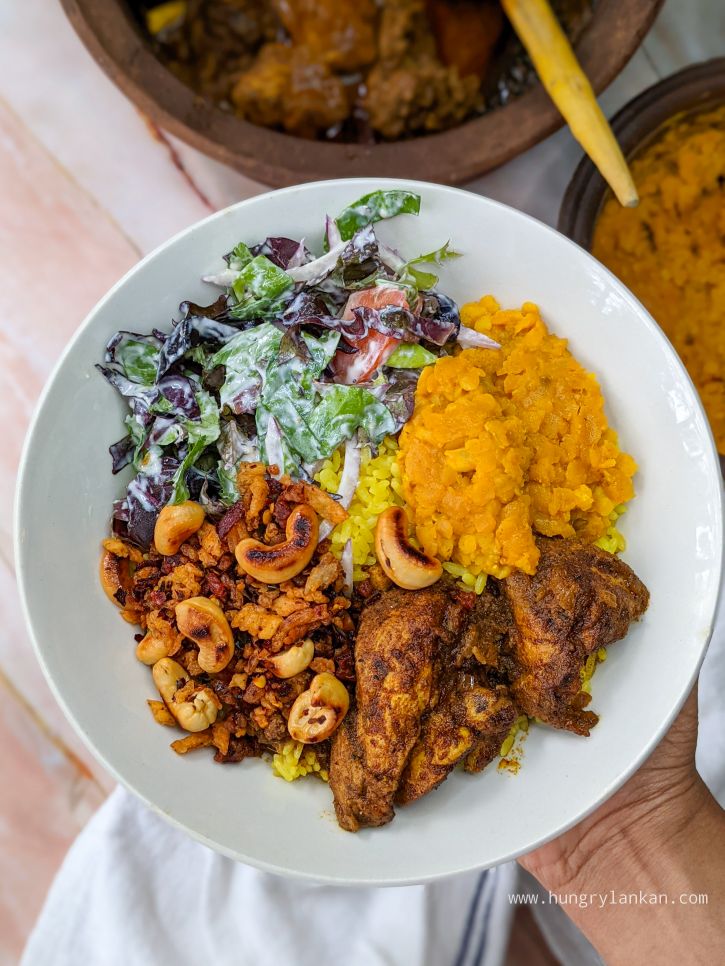 Ingredients and substitutions:
Red lentils:
This ingredient is very easy to find in any market. Go to a nearby Indian grocery store if you can't find it in your usual store. You can also use any other lentils and use this same recipe to make them into a curry. Adjust the soaking time, cooking time, and the amount of liquid that goes into the curry accordingly.
Coconut milk:
This is a must-have ingredient for the Sri Lankan lentil curry. In Sri Lanka, we use freshly squeezed thick coconut milk which has undoubtedly the best coconut flavor. But now I use canned coconut milk or coconut milk in cartons. Here's the deal with canned coconut milk though. Most of the canned coconut milk are thickened with some kind of a thickener. And the thickness depends on the brand you're using. I usually use either Aroy-D or Chaokoh brands. Both of these needs to be thinned out with a little bit of water to get the right consistency. If you're using Aroy-D coconut milk in boxes/cartons then you don't have to use a thickener.
Curry Leaves:
A popular Sri Lankan ingredient and we use this for literally every curry we make. You can get them from Indian or Chinese or southeast Asian grocery stores too. I'll also include an Amazon link below.
Pandan Leaves:
Another common Sri Lankan ingredient. Can be found in many Southeast Asian stores. Check out the frozen aisle too. You can use dried pandan leaves that are available on Amazon too but they're lack aroma and flavor.
Curry powder:
I'm using Sri Lankan unroasted curry powder and this, I understand, is not an easy ingredient to find in many countries. But the good thing is, you can skip this ingredient or use any mild curry powder you have. We only need a very small amount and the flavor of curry powder should not over powder the lentil flavor.
Chili powder:
You can use either mild chili powder or hot chili powder. It's totally up to you. I use a hot chili powder variety since I prefer it. You can even skip this ingredient if you want. Just keep in mind it can affect the color of the curry too. Chili powder makes the curry look bright yellow in color.
Fenugreek seeds:
An ingredient we consider as a healthy additive to curries. Available in most Indian grocery stores and online stores.
Turmeric powder:
Turmeric powder is a must for this one has so many health benefits of adding turmeric to your curries. Can be found in most grocery stores.
Green chilies:
You might think this to make the curry hot but trust green chilies add so much flavor to the curry too. Any green chili of your choice is good. I use cayenne.
Onions and Garlic:
In Sri Lanka, we use Asian shallots which I think is the best you can use. But Shallots or yellow onions work too since Asian shallots are not easy to find in other countries.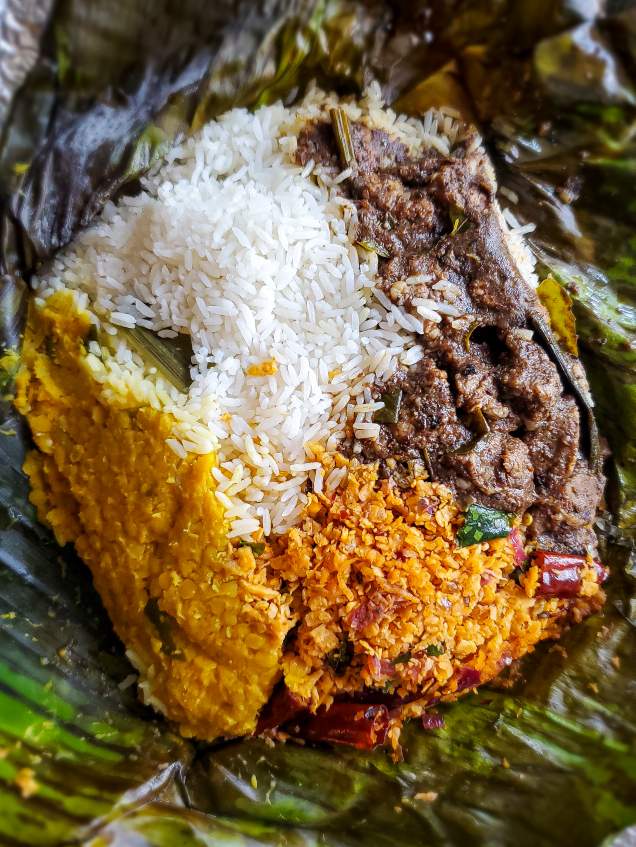 Serving suggestions:
This amount yields about 2 cups of lentil curry. And is enough to serve 4 – 5 people if you're serving as a side with rice and curries. To serve alone as a main or to have bread or Roti, this would be enough for about 2 -3 people.
As I said this is a staple for us Sri Lankans and you can have this with any Rice and curry combinations. One of my favorite menus is Red lentil curry, Coconut sambol, and chicken curry with rice.
So good to serve with yellow rice and black pork curry.
I also love to serve red lentil curry with Sri Lankan thati paan (bread) and coconut sambol together for a comfort meal.
Amazon Affiliate links for the products I use: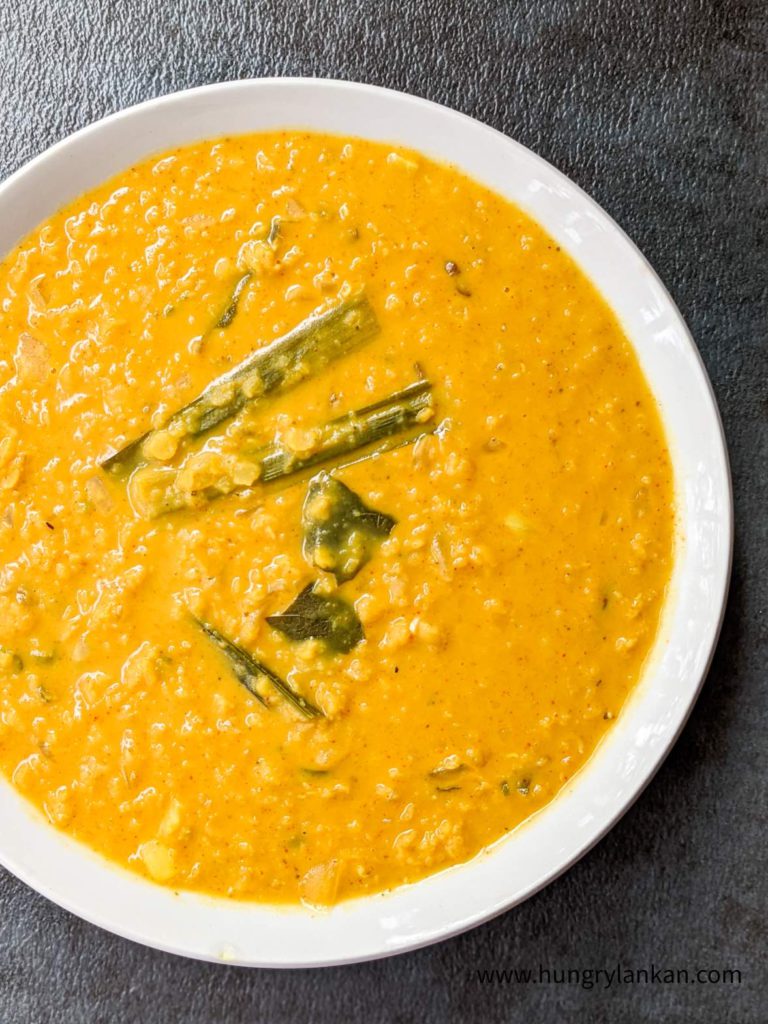 Sri Lankan Red Lentil Curry
Description
Red lentil curry is a staple in my house and I make it almost every week. So much so that I can make it with my eyes closed. Here's my super easy and beginner-friendly recipe to make the most popular Parippu curry/ Red Lentil curry.
Instructions
Add lentils to a small saucepan. Wash them very well until water runs clear.

Keep about 1/2 cup of water in the pan and drain the rest of the water. (if you're not sure, drain all the water out and then add 1/2 water back in) Let the lentils soak for 20 - 30 mins.

Now add everything except coconut milk to the saucepan.

Cook covered on medium heat until lentils become tender and there aren't any uncooked lentils left. If you see the pot is drying out too quickly before lentils are cooked, lower the heat to the lowest setting. You can also add a little bit of warm water to the saucepan too.

When lentils are perfectly cooked, add coconut milk and gently stir. You can adjust the amount of coconut milk you use to your preference. For a creamier flavor and texture use thicker coconut milk or add more coconut milk. For lighter curry use thinner/diluted coconut milk. 

(Don't stir too much while cooking as it can become mushy)

Slowly bring the curry to simmer and turn it off. Adjust salt if needed.
Parippu, Red lentil curry, Parippu curry, Vegan, Vegetarian, Vegan curries, Dairy free, Coconut milk, Lentils, Sri Lankan, Sri Lankan curry